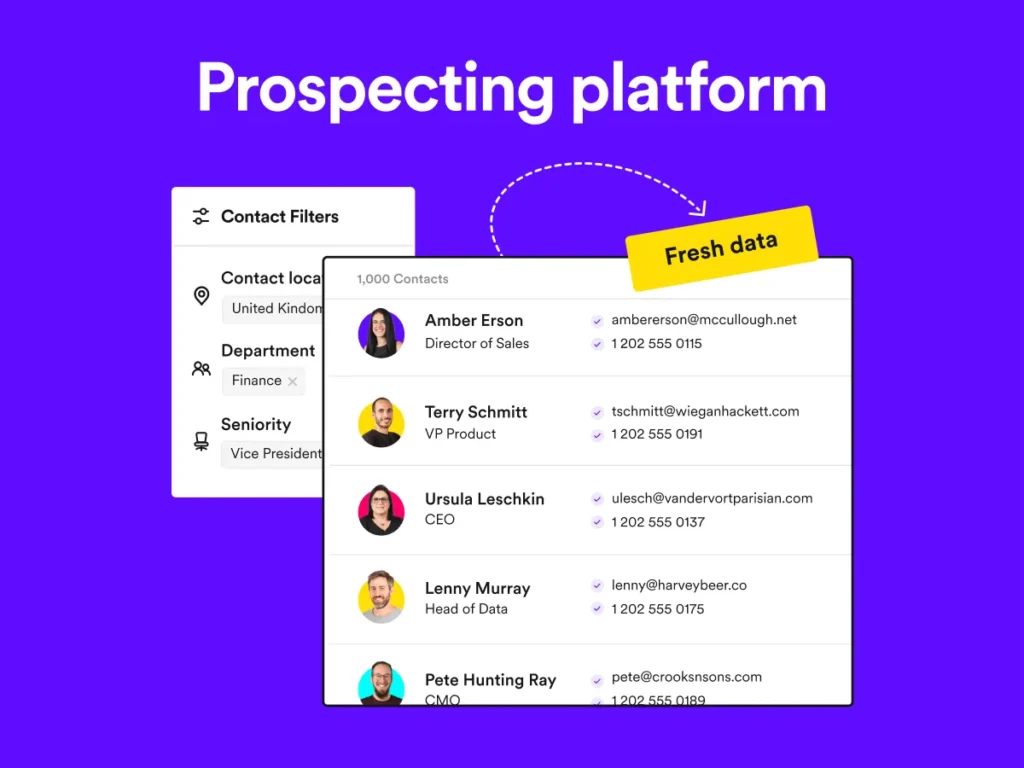 Image source: Capterra
Lusha is a widely recognized solution for efficiently gathering contact information, such as email addresses and phone numbers, from many leads.
It provides several features that contribute to its popularity. For instance, Lusha's comprehensive database draws contact information from multiple sources.
It also offers various filters to narrow your search and identify your ideal customers. The platform provides valuable insights and analytics to enhance the effectiveness of your outreach efforts.
However, it is essential to note that Lusha does have a few limitations:
The data in Lusha's database, particularly for lesser-known companies, is only partially updated.
Some users perceive the pricing structure as somewhat steep.
There have been customer complaints regarding hidden search quotas in paid plans.
It is worth mentioning that Lusha's LinkedIn search app operates solely through a web browser.
Fortunately, the market is packed with Lusha alternatives, offering various lead collection tools.
To assist you in navigating this buyer's market, we have curated a list of our top five Lusha alternatives to help you make an informed decision and find the ideal solution for your needs.
Let's start with some basic information.
Our criteria for choosing the best Lusha alternative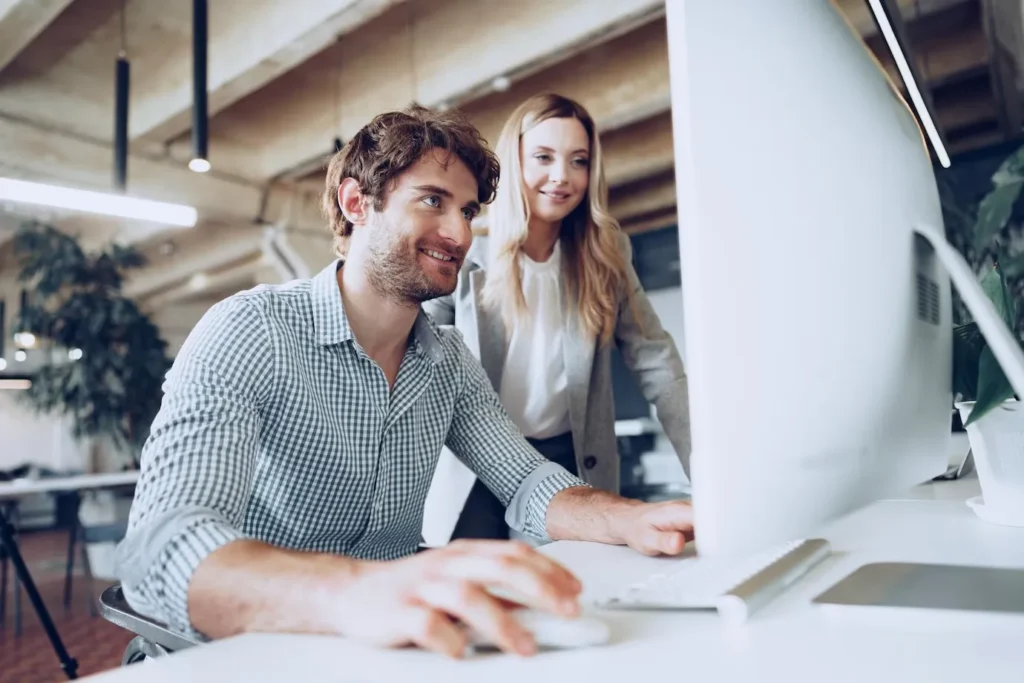 Image source: Freepik
When evaluating the top Lusha alternatives, we considered several key factors:
Features and functionality: The primary purpose of any contact information app is to provide correct and up-to-date data. While advanced features are beneficial, prioritize the availability of current contact information as the cornerstone of your decision-making.
User-friendliness: Getting contact information is only the first step in the sales process. Check if the Lusha competitor delivers a seamless and user-friendly experience, making navigating and using the app accessible.
Cost-effectiveness: Finding value for your investment is more important than choosing the cheapest Lusha competitors. Look for a solution that balances cost and the features it provides.
Customer support: Choose an alternative that provides consistent and responsive customer service. A professional support team readily available to assist you will contribute to a more pleasant experience and help resolve any issues that may occur.
Pricing: Remember that contact information is only one aspect of the sales process, and your budget also needs to cover other tools and resources. Invest in quality alternatives while being mindful of budget allocation.
Integration with third-party tools: Choose an alternative that works easily with other popular tools you rely on. This integration will enhance your productivity and efficiency.
Current user reviews: While feature lists can be helpful, reading reviews from actual users is more beneficial. Real-world user experiences can provide insights into the advantages and disadvantages of different alternatives, helping you make a well-rounded decision.
Taking these aspects into account, you can properly analyze Lusha alternatives and select the option that best meets your needs.
The best Lusha alternative in 2023
Based on our careful evaluation process, we have identified the top five Lusha alternatives for you to explore in 2023. Let's start with our list.
Golden Leads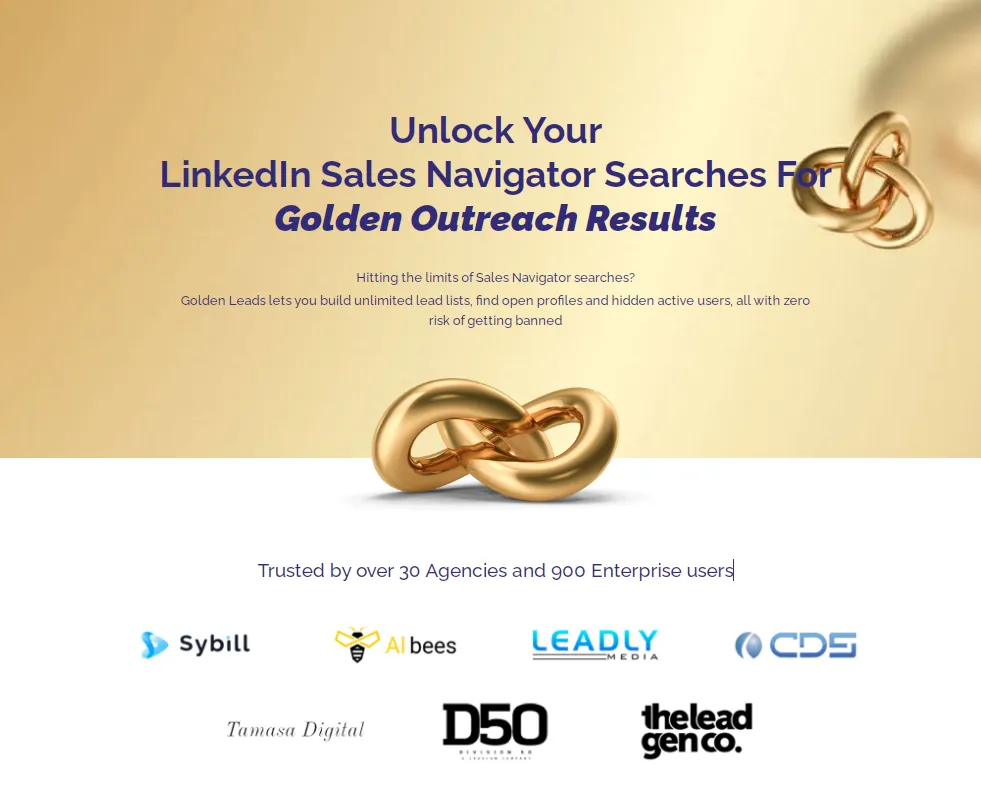 Golden Leads optimizes lead generation through data intelligence and enrichment, leveraging LinkedIn's power.
It helps sales teams identify visible and hidden user profiles and create extensive lists of potential leads, surpassing LinkedIn Sales Navigator's limitations of 2,500 results per search.
Golden Leads ensures accurate and up-to-date information about potential buyers by scraping, cleaning, validating and verifying data compared to Chrome extension-based research solutions that provide old and stale contact information.
Our hyper-personalization capabilities also enable tailored sales searches.
Complete our form to learn more about Golden Leads.
Features list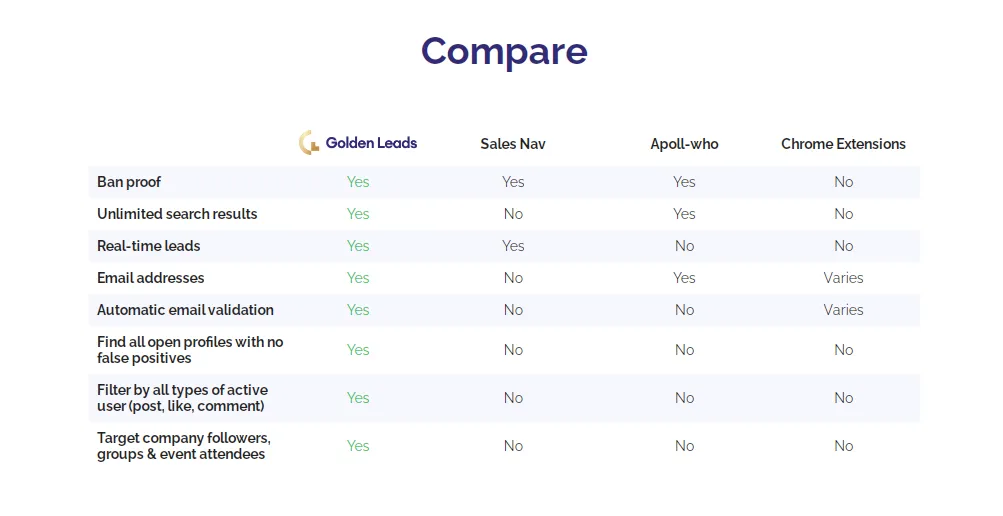 Here's what Golden Leads offers:
Maximize your lead generation efforts with Golden Leads, a valuable tool that complements LinkedIn Sales Navigator. By surpassing the limitation of 2,500 results per search, Golden Leads enables unlimited data extraction on a larger scale.
Golden Leads provides secure data access to a vast base of over 700 million potential connections. You can effortlessly obtain crucial information such as first names, last names, professional email addresses, company names, company URLs, LinkedIn profile IDs, and LinkedIn company IDs.
Efficiently manage your data with Golden Leads by receiving scraping results directly to your email in CSV format, ensuring a seamless and streamlined process.
Elevate your LinkedIn outreach campaigns with Golden Leads' advanced open profile identification feature. Engage with potential contacts through free InMails, expanding your networking opportunities and broadening your reach.
Evaluate and identify active LinkedIn users by analyzing their recent activities, including likes, comments, and posts within the last 30 days. This valuable feature enhances your connection request acceptance rates, facilitating network growth.
Fill out our form to learn more.
What makes this tool unique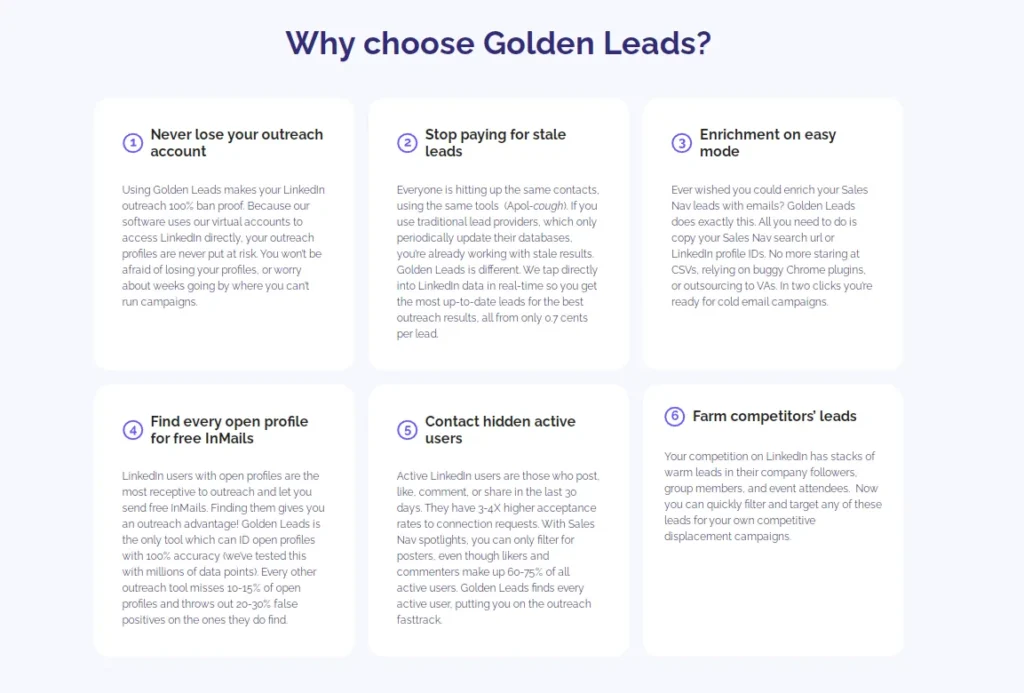 Golden Leads offers unique features that set it apart from Lusha:
LinkedIn scraping: Golden Leads introduces a groundbreaking LinkedIn scraping feature that transforms how sales representatives extract data from LinkedIn Sales Navigator. By leveraging virtual accounts, Golden Leads enables real-time data extraction without the risk of LinkedIn account suspension, ensuring a safe and efficient process.
Email outreach: By extracting data and acquiring validated emails from active LinkedIn users, Golden Leads empowers you to create targeted campaigns tailored to prospects more likely to convert into customers. This personalized approach significantly increases your chances of achieving success.
Access to competitors' leads: This feature enables you to compile a list of users from LinkedIn pages, groups, and events using a specific source URL. By keeping track of your competitors' targets, you can expand your outreach efforts and refine your strategies to tap into new opportunities.
Elevate your sales and marketing efforts with Golden Leads today.
Fill out our form to learn more about our platform's extensive benefits.
Integrations
Golden Leads can scan millions of social profiles with LinkedIn Sales Navigator. It lets you identify potential customers or businesses needing your products or services.
Customer support
Feel free to reach out to our support team via email. Our dedicated representatives are available to assist you with any inquiries regarding our product.
Pricing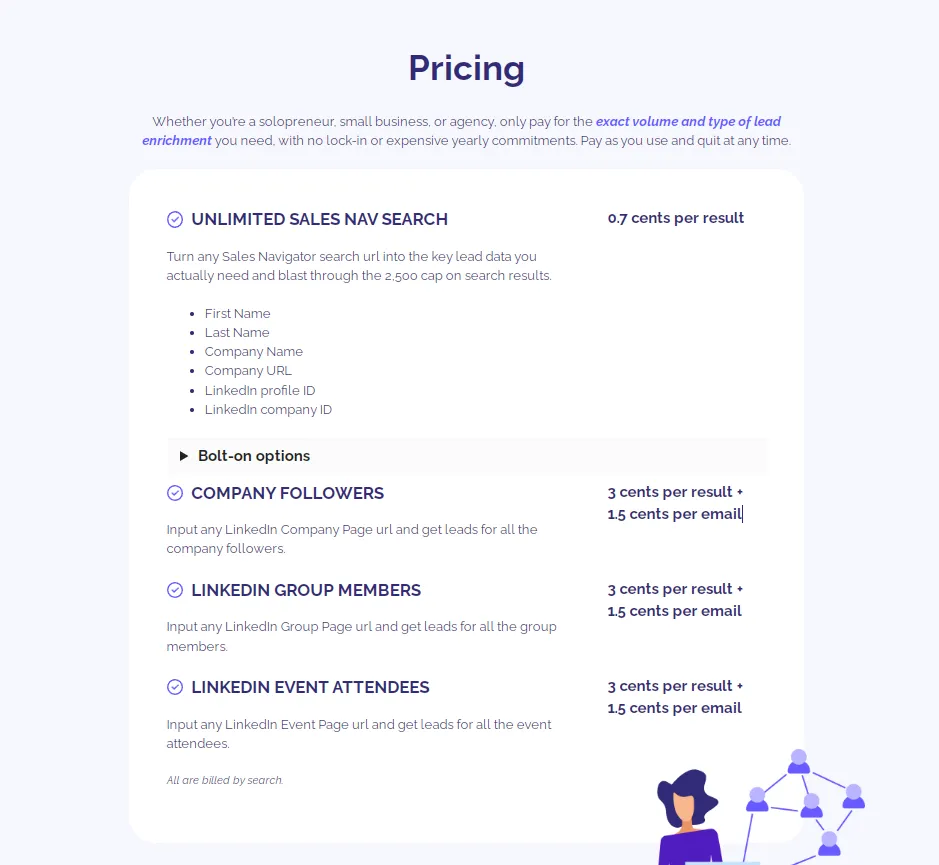 Experience the freedom from long-term commitments and fixed monthly fees with Golden Leads.
We offer a flexible pricing model designed to cater to your specific requirements. Our pay-as-you-go structure allows you to customize your usage and expenses based on your needs.
Contact us to learn more about our pricing options to determine the best fit for your business.
Pros
Enhances collaboration between your marketing and sales teams
Increases revenue and maximizes the customer's lifetime value
Provides more upsell and cross-sell opportunities
Shortens the sales cycle
Boosts contract values and improves customer retention
Leverages valuable data from LinkedIn Sales Navigator
Offers a user-friendly and cloud-based platform
Cons
It's currently focused on LinkedIn data only
Wiza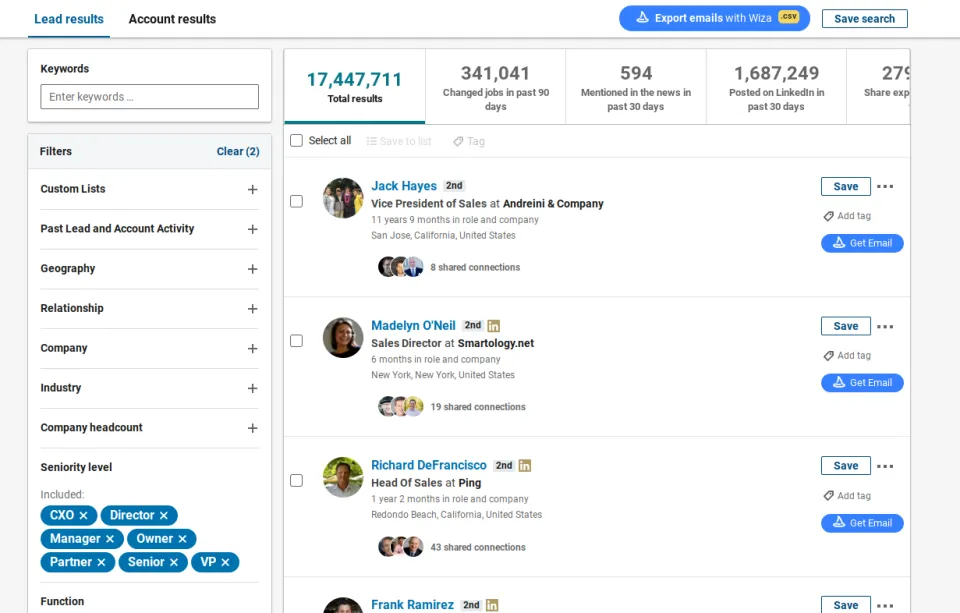 Image source: G2
Wiza is a LinkedIn email finder app that swiftly locates and verifies contact information. Although user-friendly and packed with powerful features, it operates as a Chrome extension. It is against LinkedIn rules and jeopardizes your account's safety.
User rating
Overall, Wiza has a very good rating:
Capterra: 4.5/5
G2: 4.4/5
GetApp: 4.5/5
Features list
Here's what features you can expect:
LinkedIn sales prospecting
LinkedIn scraping
Email verification
CSV export
Result filters
Realtime information
Data point enrichment
CRM sync
Sales automation
Artificial intelligence data cleaning
What makes this tool unique
With its intuitive interface and precise results, Wiza ensures you receive high-quality and relevant data without any clutter or irrelevant details.
Integrations
Wiza is versatile as it allows you to export data in CSV format, making it compatible with many popular CRM and emailing tools like Salesforce, HubSpot, Gmail, and Outlook.
Customer support
In case of any issues with Wiza, you can visit their help center or contact the company by email.
Pricing
Wiza offers three paid plans:
Micro: 75 email credits for $30/user/mo + $0.15 per extra credit
Pro: 250 email credits for $50/user/mo + $0.15 per extra credit
Growth: 750 email credits for $100/user/mo + $0.15 per extra credit
Pros
Simple to use
Accurate LinkedIn data
Good support
Cons
This is a Chrome extension, which means it puts your LinkedIn account at risk
It exports up to 2,500 results per LinkedIn Sales Navigator search query
Coldlytics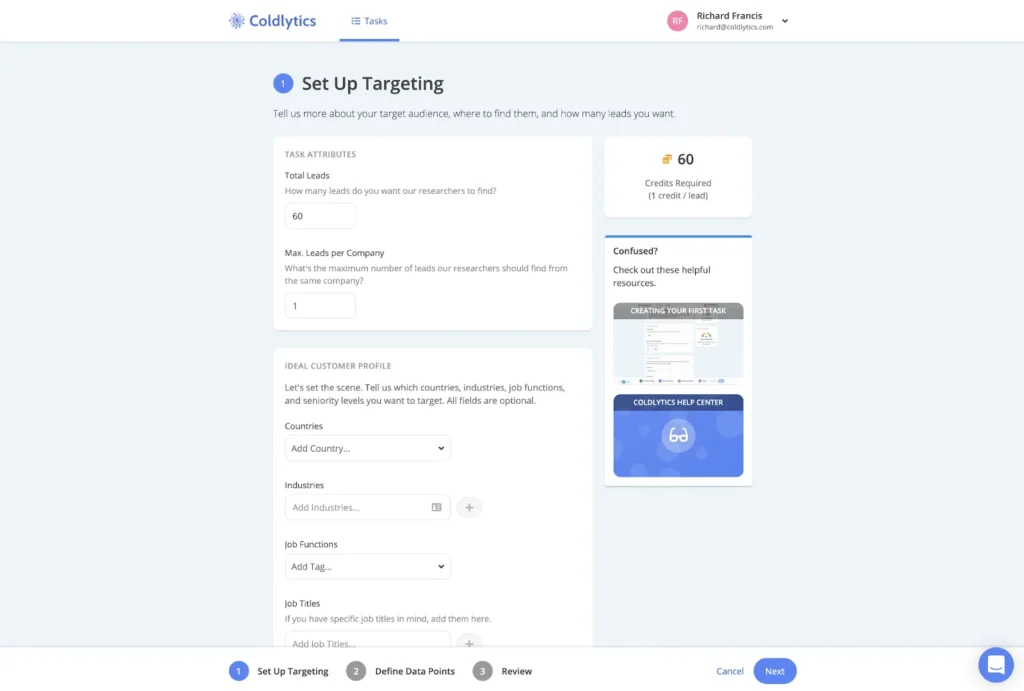 Image source: G2
Coldlytics is a B2B sales intelligence platform that enables you to efficiently search and gather valuable prospect information from LinkedIn, Facebook, Reddit, Slack, and Discord. It's suitable for sales professionals, market researchers and digital marketers.
While it offers promising results, its pricing structure, consisting of steep monthly packages, may challenge smaller teams in the early stages of their business journey.
User rating
Although Coldlytics is relatively new, it has received highly positive user reviews
G2: 5.0/5
Capterra: 5.0/5
Trustpilot: 4.7/5
Features list
Here's what Coldlytics offers in a nutshell:
Defining and filtering goals
ICP creation
Platform-specific targeting tools
Private company prospecting
AI, and manual research
Zerobounce email verification
24-hour list turnaround
Google sheet export
What makes this tool unique
What sets Coldlytics apart is its unique ability to source data from platforms like Reddit, Discord, and Slack. It provides a comprehensive understanding of your target audience and expands your opportunities for effective B2B sales intelligence.
Integrations
Coldlytics provides API to connect with third-party platforms. It also integrates with Lemlist and PPC Ad Lab.
Customer support
Coldlytics provides a help center with detailed documentation. You can also start a live chat in case of any issues.
Pricing
Coldlytics offers three pricing plans:
Lite: 100 credits for $99/month and 99 cents per additional credit
Basic: 400 credits for $299/month and 79 cents per additional credit
Pro: 1000 credits for $599/month per month and 59 cents per additional credit
Pros
Sourcing data from LinkedIn, Reddit, Facebook, Slack, Discord
Third-party email validation
Responsive support team
Cons
Very expensive for small businesses
Coldlytics' research team conducts manual web crawling to source your contacts
MailsHunt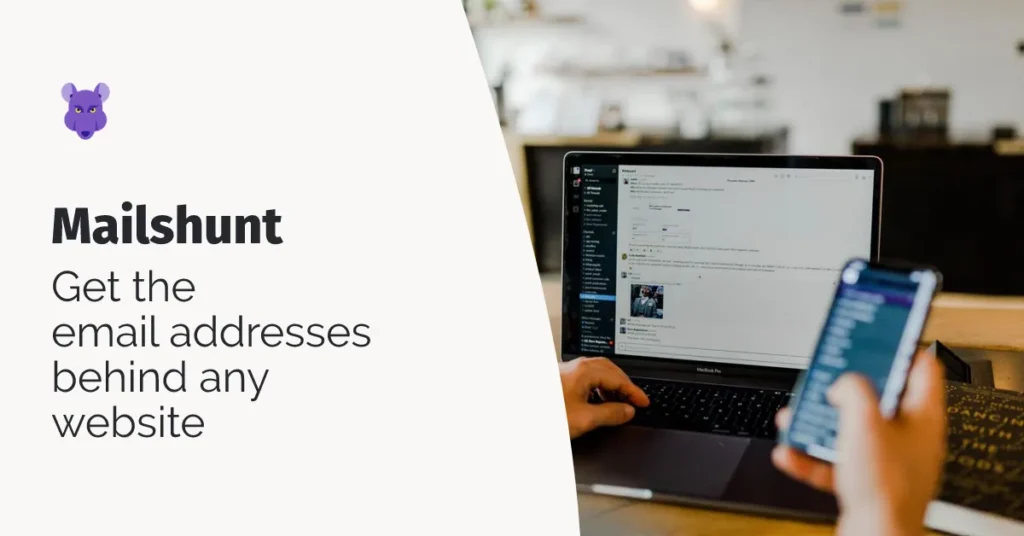 Image source: ProductHunt
MailsHunt is a convenient Chrome extension that swiftly finds and verifies professional emails of people working at specific companies. It helps you connect with your target accounts, providing over 20 million email addresses.
User rating
MailsHunt only has a few reviews, mostly positive:
Chrome web store: 5 stars, 3 reviews
ProductHunt: 5 stars, 2 reviews
Features list
MailsHunt is a straightforward extension that performs three essential functions:
Domain search lists
Email addresses verification
Results download
What makes this tool unique
Although MailsHunt may offer a limited range of features, its free usability makes it an appealing choice for those on a tight budget.
Integrations
MailsHunt operates as a Chrome/Edge extension, limiting its integration capabilities with external tools. You can incorporate MailsHunt's results into your CRM for effective email outreach.
Customer support
Since it's a free app created by an independent developer, it is essential to note that premium customer support may not be available.
Pricing
The cost-free nature of MailsHunt provides an accessible solution for those just starting and looking to streamline their email-finding process.
Pros
Very simple to use
More than 20 million email addresses at your disposal
Cons
Limited functionality
Lack of integrations
Extensions carry a security risk
GetProspect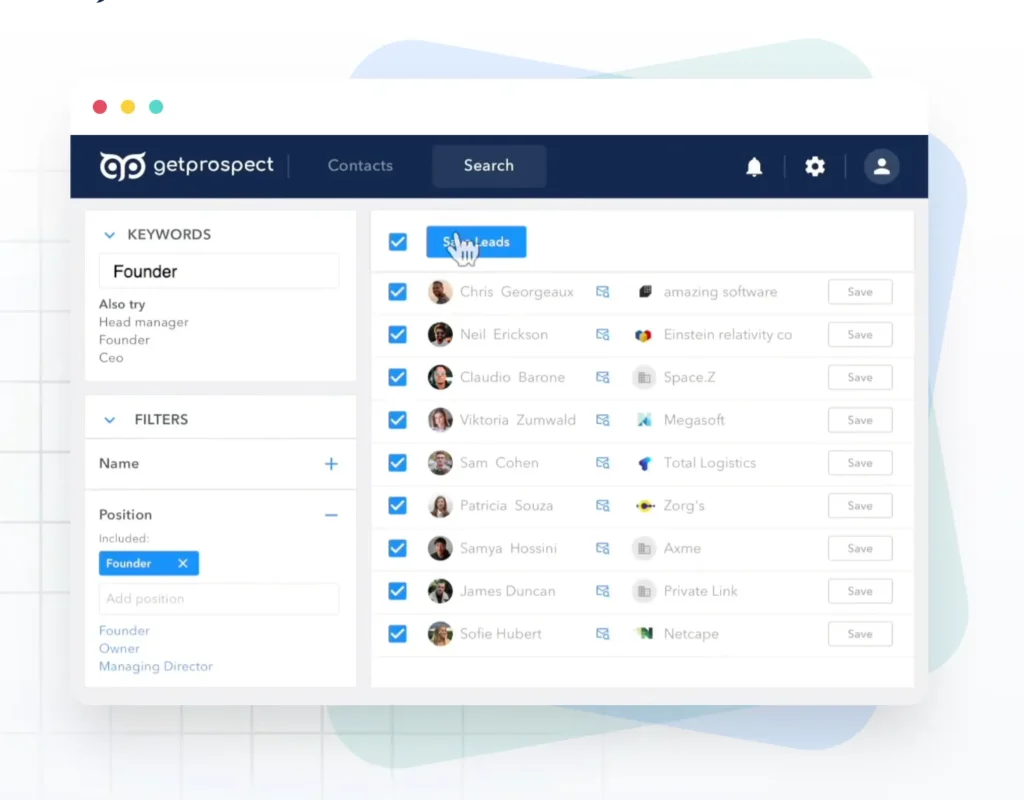 Image source: G2
GetProspect is an email finder that provides accurate B2B contact and company data, catering to the needs of sales teams, business developers, recruiters, and marketers.
With GetProspect, you can easily find valid emails of your ideal customers by applying various filters such as job title, location, industry, company size, and more.
It helps streamline identifying and reaching out to potential leads, enhancing sales and marketing efforts.
User rating
Some users have reported occasional instability and unresponsiveness from the support team. However, GetProspect customers are generally satisfied with the app:
G2: 4.2/5
Capterra: 4.2/5
Trustpilot: 2.9/5
Features list
Here are the best features of GetProspect:
200 million contact database
Email verification
Daily safety limitations
Lead generation and nurturing sequences
Personalized messages
Search by domain/name/company
Customizable workflows
What makes this tool unique
GetProspect follows a payment model where they only charge for validated emails, emphasizing the importance of relevant data. Additionally, they have plans to launch an outreach marketing platform in the future, which is an exciting development to anticipate.
Integrations
GetProspect seamlessly integrates with popular tools like Hubspot, Salesforce, and Mailchimp, allowing easy data import and export.
Customer support
GetProspect provides a help center, API documentation and a live chat on its official website.
Pricing
GetProspect has five pricing plans:
Free: 50 valid emails per month, 100 verifications
Starter: 1,000 valid emails per month, 2,000 verifications for $49/month
Basic: 5,000 valid emails per month, 10,000 verifications for $99/month
Plus: 20,000 valid emails per month, 40,000 verifications for $199/month
Pro: 50,000 valid emails per month, 100,000 verifications for $399/month
Pros:
A large database
Good feature list
A free plan
Cons:
Extension-based
Stability and customer support complaints
Lusha alternative: A short overview
Let's share the most essential features of the best Lusha alternatives.
User rating
Best for
Pros
Cons
Pricing
Golden
Leads
N/A
Building unlimited lead lists, finding open profiles and hidden active users on LinkedIn, all with zero risk of getting banned
Access to over 700 million records, cloud-based and profile-independent tool, data scraping, cleaning, enriching and validation, hyper-personalized searches
Focuses on LinkedIn data only
Pay-as-you-go model, costs per result, member or email, cost-efficient and affordable
Wiza
4.5/5
Finding clean contact information.
Accurate LinkedIn info, good support, simple to use
Chrome extension
Starts from $30/mo
Coldlytics
4.9/5
Finding contact information from multiple sources
Uses Reddit, Discord, LinkedIn, Facebook, email validation, good support
Expensive
Starts from $99/mo
MailsHunt
5/5
For teams with a tight budget
Simple to use with basic features
Chrome extension
Free
Get
Prospect
3.77/5
Finding validated emails at scale
Only charges for validated emails, a good amount of features, a free version
Chrome extension, stability complaints
Starts free, premium plans from $49/mo
What is the best Lusha alternative?
Golden Leads is the ultimate Lusha alternative, surpassing its competition with many benefits.
Golden Leads optimizes lead generation with its advanced LinkedIn Sales Navigator scraping, enabling you to extract data without limitations. It grants you access to a database of over 700 million users, providing reliable and accurate contact information.
Golden Leads empowers you with its email outreach feature, enhancing the effectiveness of your campaigns. By extracting and validating emails from active LinkedIn users, you can design targeted campaigns to acquire more customers.
Golden Leads offers a distinct advantage by providing access to competitors' leads. By effortlessly listing users from LinkedIn pages, groups, and events using a source URL, you can stay updated on your rivals' targets and expand your reach accordingly, seizing new opportunities in the market.
Golden Leads provides a flexible, pay-as-you-go pricing model that adapts to individual requirements, allowing you to adjust your expenses accordingly and eliminating the need for long-term commitments and fixed monthly fees.
Fill out our form to start using our platform.
FAQs about Lusha alternative
Let's answer the most common questions about Lusha alternatives.
What is the best alternative to Lusha?
If you are looking for an easy-to-use solution for acquiring LinkedIn contact information without getting banned, try Golden Leads.
Fill out our form to learn more.
How to use Lusha for free?
Lusha offers a free plan that gives users five credits, allowing them to test the app and discover a handful of emails.
What is Lusha used for?
Lusha helps sales teams find B2B contact data for prospecting. It enhances their outreach efforts and helps them establish meaningful connections with targeted individuals.
How does Lusha's LinkedIn work?
To find contact data using Lusha, you must first install the browser extension and then access LinkedIn or Sales Navigator. However, it's important to note that using browser extension scrapers violates LinkedIn's rules.
Why is intent data essential for sales and marketing teams?
Every prospect is unique, with some visiting your site randomly and others ready to purchase. Sales teams need to recognize this distinction.
Intent data provides valuable insights to differentiate between these groups, enabling the creation of customized marketing campaigns for each lead segment.
Why is lead generation important for sales teams?
The quantity of leads directly impacts the potential business opportunities and, ultimately, the number of successful conversions, which is crucial.
However, the ability to generate leads of the highest quality is equally important. It is essential to generate high-quality leads to avoid wasting time reaching out to disinterested individuals and maximize your chances of achieving favorable outcomes.