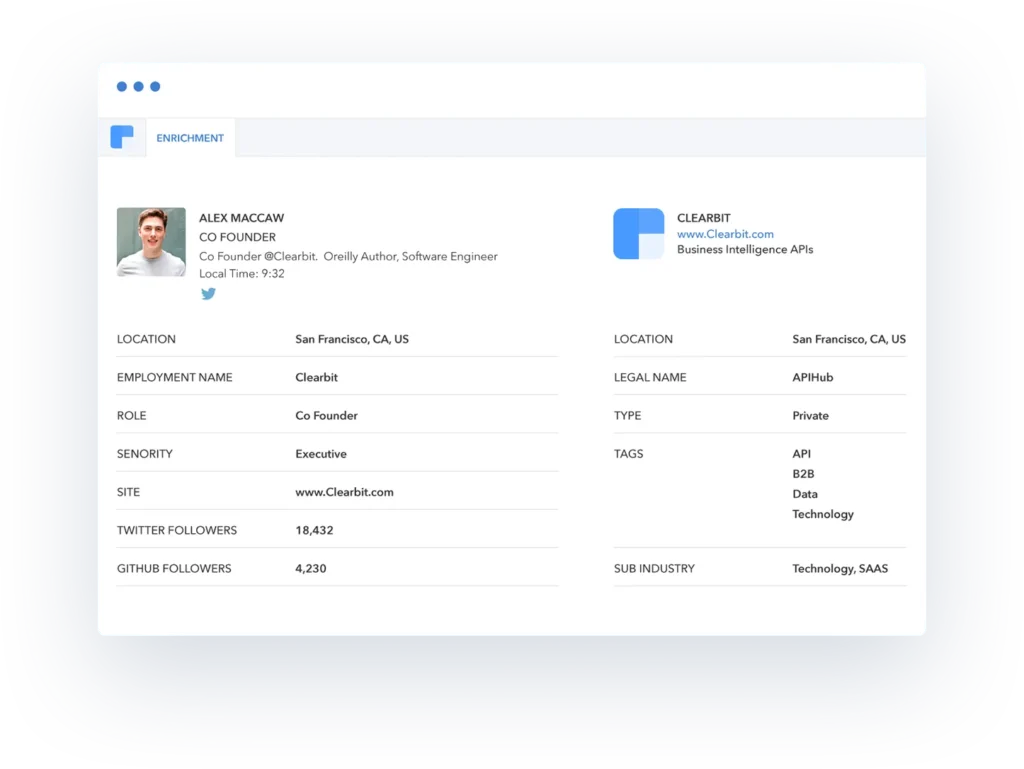 Image source: G2
Access to accurate data is crucial for the success of your revenue teams.
Clearbit is a popular sales intelligence tool that helps you collect data from various sources, such as social media profiles, company websites, and public databases, to enrich data on potential leads and customers and enhance lead generation, prospecting, and personalization.
However, similar options are available in the market with distinct features and benefits that might help you access more accurate information about your prospects, enabling you to make more informed sales and marketing decisions.
Since we understand that every business has unique needs, we've extensively researched Clearbit's competitors, exploring their features, pricing, integrations, and more.
Whether you're looking to replace Clearbit or searching for a business data enrichment tool, in this article, we'll present the five Clearbit competitors that may better suit your business requirements.
Our criteria for choosing the best Clearbit competitors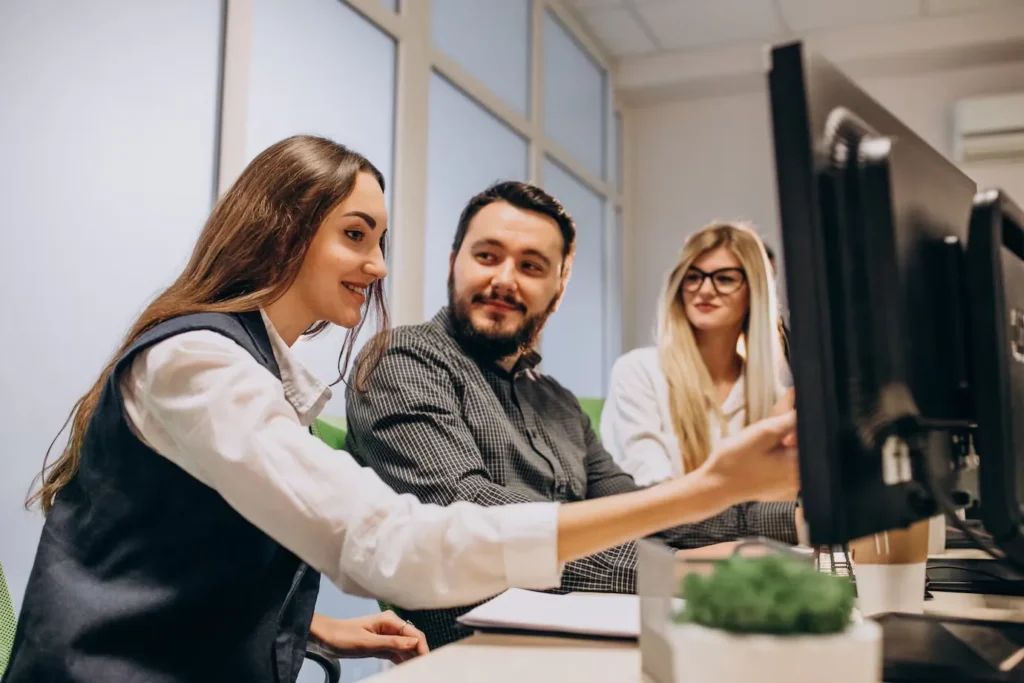 Image source: Freepik
Before we examine Clearbit alternatives, it's crucial to explain the parameters we used to make our choices. Let's share the criteria the best tools for enriching business data should meet.
Features and functionality – We looked for tools that provide similar services like Clearbit, including data enrichment, lead scoring and advanced personalization.
User-friendliness – Sales and marketing teams need intuitive platforms that require minimal technical expertise or training. Software that is easy to use helps you save time and effort by quickly adapting to it.
Cost-effectiveness – We included Clearbit competitors that balance cost and value well.
Customer support – You might need help while using the tool. The solutions we mention provide reliable and responsive customer support.
Pricing – We know companies are after transparent pricing structures, so we included this factor. Determine if the cost aligns with your budget. You should also check how it compares to the Clearbit pricing.
Integration with third-party tools – Integration enhances the efficiency of your workflows. Consider your CRM, data analytics tools or other platforms you rely on. Make sure to verify that they integrate smoothly with your new software.
Current user reviews – Online review sites provide insights into the experiences of real users. We paid attention to feedback to gain a comprehensive understanding of the features and benefits of each solution.
With the above criteria in mind, we'll go over five Clearbit competitors you can start using today.
The best Clearbit competitors in 2023
Let's explore the details and discover the leading Clearbit competitors that could potentially elevate your business data enrichment strategies.
Golden Leads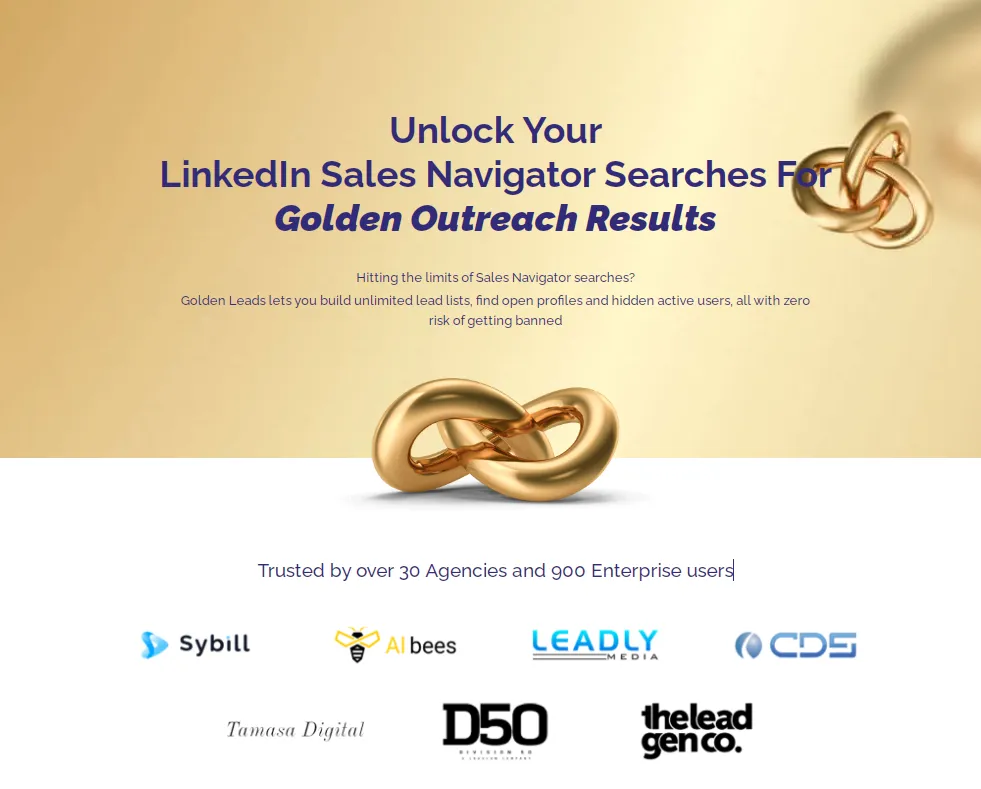 Golden Leads is an innovative solution to optimize lead generation through data intelligence and enrichment.
Leveraging the power of LinkedIn, Golden Leads assists sales teams in identifying both open and hidden profiles, enabling them to generate extensive lists of potential leads.
Since LinkedIn Sales Navigator limits the lead display to 2,500 per search, Golden Leads surpasses this restriction by extracting data without limitations while prioritizing your LinkedIn profile's safety.
With Golden Leads, you can eliminate inaccurate or false information on new leads. Our platform goes the extra mile by scraping, cleaning, validating and verifying data, ensuring your sales team has precise and comprehensive information about potential buyers.
What truly distinguishes Golden Leads is its remarkable hyper-personalization capabilities.
Through actionable insights and analytics, our tool empowers you to create highly tailored sales searches, allowing you to align your sales efforts with your target audience's specific needs and preferences.
Complete our form to learn more about Golden Leads.
Features list
Enhance your lead generation efforts with Golden Leads, a powerful tool that complements LinkedIn Sales Navigator. Overcoming the limitations of 2,500 results per search allows unrestricted data extraction on a larger scale.
Golden Leads grants you secure access to a vast database of over 700 million potential connections. You can obtain essential information like first names, last names, company names, company URLs, LinkedIn profile IDs, and LinkedIn company IDs.
Effortlessly receive your scraping results in CSV format directly to your email, ensuring a seamless and efficient data management process.
Boost your outreach campaigns with the advanced open profile identification feature Golden Leads provides. This feature enables you to engage with potential contacts through free InMails, expanding your networking opportunities and improving your reach.
Identify and evaluate active LinkedIn users by analyzing their recent activities, such as likes, comments, and posts within the last 30 days. This valuable feature helps improve your connection request acceptance rates, facilitating the growth of your network.
Unlock the untapped potential of lead generation on LinkedIn with Golden Leads. Experience its benefits and propel your sales and marketing efforts.
Fill out our form to learn more.
What makes this tool unique
Golden Leads offers unique features that set it apart from Clearbit. Let's explore these features individually:
LinkedIn scraping: Golden Leads revolutionizes how sales representatives scrape data from LinkedIn Sales Navigator. By leveraging virtual accounts, you can extract data in real-time without the risk of being banned from LinkedIn. It ensures a safe and efficient scraping process.
Email outreach: Enhance the effectiveness of your outreach efforts with Golden Leads' email enrichment feature. By extracting data and obtaining validated emails from active LinkedIn users, you can create targeted campaigns tailored to prospects more likely to convert into customers. This personalized approach maximizes your chances of success.
Access to competitors' leads: Gain a competitive edge by leveraging Golden Leads' ability to list users from LinkedIn pages, groups, and events using a source URL. This feature lets you stay updated on competitors' targets and expand your reach accordingly. By monitoring your competitors' strategies, you can refine your approach and tap into new opportunities.
Elevate your sales and marketing efforts with Golden Leads today.
Fill out our form to learn more.
Integrations
By integrating with LinkedIn Sales Navigator, Golden Leads can scan millions of social profiles and help you identify potential customers or businesses that may require your products or services.
Customer support
You can get in touch with the support team via email. Our representatives will help you with various product-related inquiries.
Pricing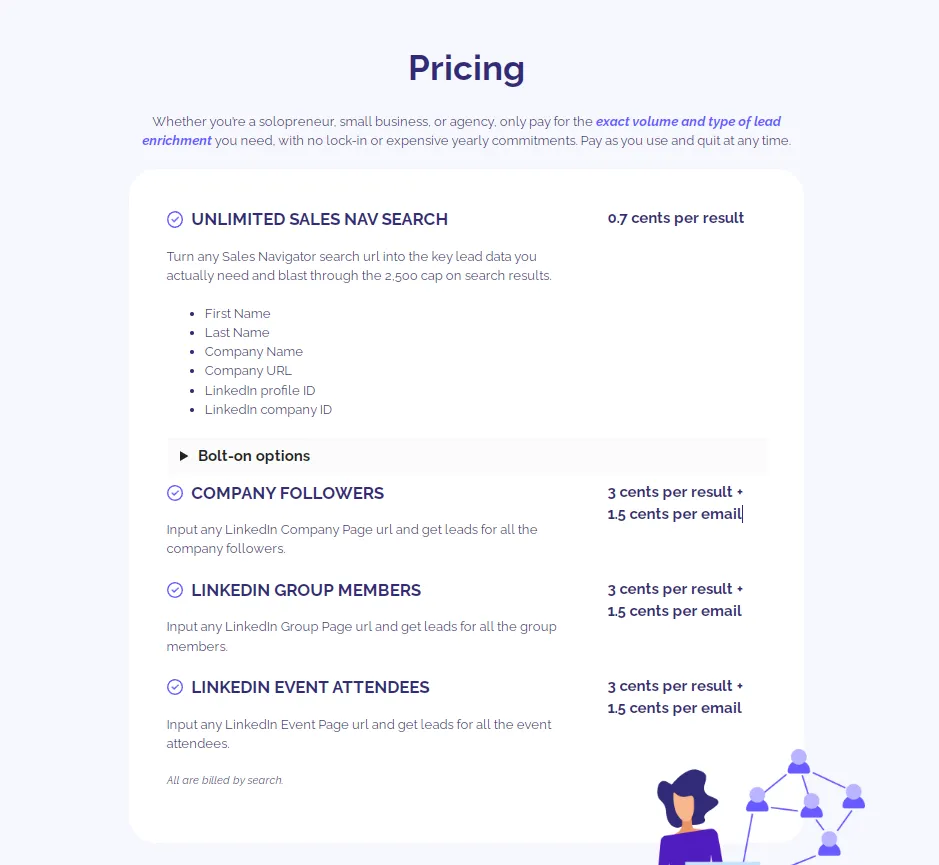 Say goodbye to long-term commitments and fixed monthly fees.
Golden Leads provides a flexible pricing model that adapts to your specific requirements. With our pay-as-you-go structure, you can adjust your usage and expenses according to your needs.
We understand that every business is unique, and our pricing model reflects this. You can tailor your investment in Golden Leads to match your lead generation goals, ensuring you only pay for what you use.
To discover more about our pricing options and find the best fit for your business, please don't hesitate to contact us. Our team is always available to provide further information and assist you in making an informed decision.
Pros
Enhances cooperation between your marketing and sales teams
Increases your revenue and maximizes the customer's lifetime value
Gives you more upsell and cross-sell opportunities
Shortens your sales cycle
Increases contract values and improves customer retention
Leverages LinkedIn Sales Navigator data
Simple to use and cloud-based
Cons
It currently focuses on LinkedIn data only
Leadfeeder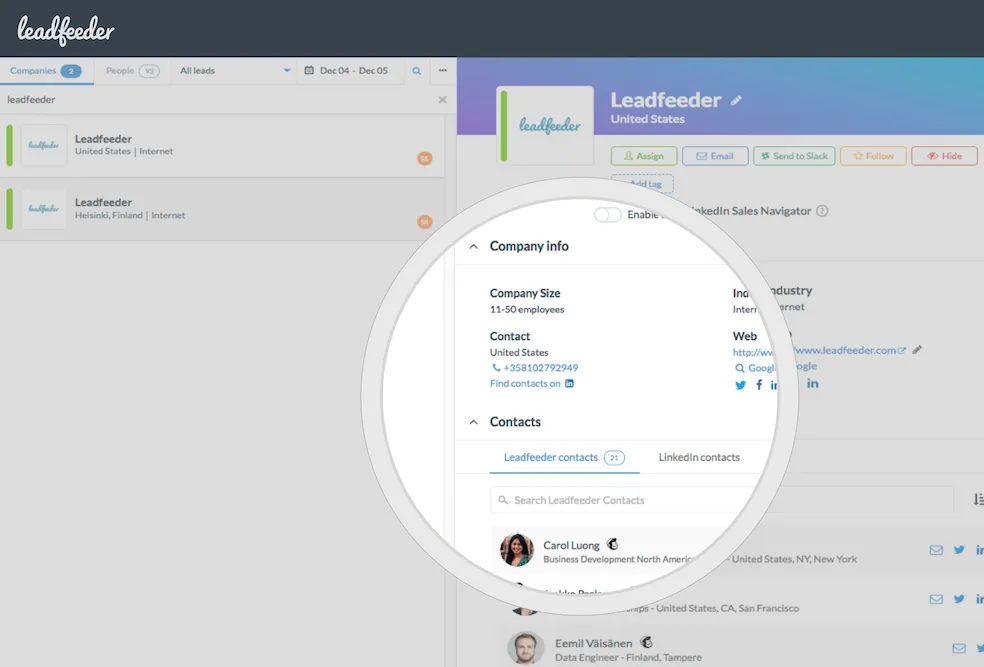 Image source: Trust Radius
Leadfeeder is an advanced web analytics and lead generation tool that empowers you to identify and monitor website visitors effectively.
As a viable alternative to Clearbit, Leadfeeder provides valuable insights by revealing the businesses that have visited your website, even if they haven't contacted you directly.
With Leadfeeder, you can use its custom segmentation feature to score and qualify site visitors.
By filtering out ISP traffic, you can focus exclusively on authentic companies. Additionally, you can create various filters to segment leads and pinpoint those with the highest potential.
Leadfeeder offers the IP Enrich API, which transforms IP addresses into firmographic data. It enables you to match visitors with their corresponding companies, enhancing your understanding of their background and context.
User rating
Leadfeeder scores 4.2 out of 5 on GetApp based on over one hundred reviews.
Features list
Website visitor tracking
Lead generation software
Visitor behavior tracking
Lead scoring
Custom filters
What makes this tool unique
Leadfeeder leverages engagement data to identify leads within companies. By analyzing their engagement and behavior, the platform's lead-scoring feature enables you to prioritize the most valuable prospects effectively.
Integrations
Leadfeeder integrates with countless apps marketing and sales teams use, including
HubSpot
Pipedrive
Google Analytics
ActiveCampaign
Customer support
You have several options to get support:
The Leadfeeder Help Center
Email
Chat
Pricing
The company offers two plans:
Free
Paid – starting from €199 per month and billed annually
Pros
Ease of use for basic features
Rich functionality
Detailed contact data
Company-level visitor tracking
Cons
A steep learning curve for advanced features
Limited individual visitor tracking
FullContact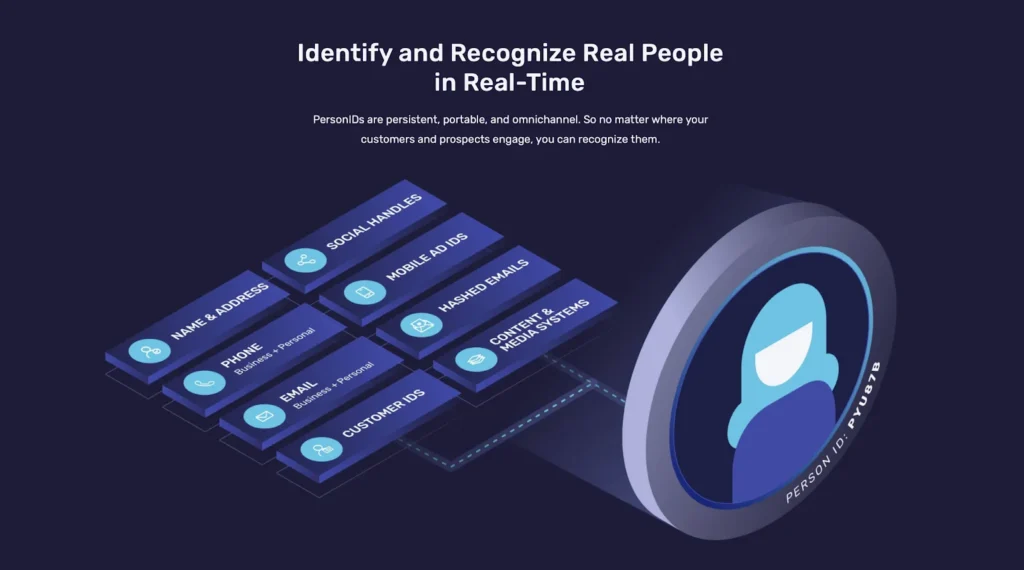 Image source: G2
FullContact is another Clearbit alternative specializing in big data, enrichment, and intelligence. FullContact empowers you to create tailored experiences and improve identity verification by unifying data and applying valuable insights.
The platform enriches customer details by providing additional data points such as:
Job titles
Company websites
Social profiles
Company information
Demographic details
With this data enrichment, marketers and sales representatives can better understand their customers, enabling them to deliver targeted content and personalized experiences.
FullContact also offers robust segmentation capabilities, allowing you to organize your customer base according to various criteria, such as interests, behavior, or demographics.
User rating
GetApp rated FullContact 4 out of 5 based on 76 reviews.
Features list
Contact enrichment
Identity verification
Data cleansing
Audience segmentation
What makes this tool unique
This Clearbit alternative allows you to connect and match customer and company information collected from multiple data sources, providing marketers and sales reps access to unified customer profiles.
Integrations
With Zapier, you can connect FullContact with numerous solutions like
Webhooks
Salesforce
Shopify
Slack
Mailchimp
Customer support
You can get help on various channels such as:
Phone
Email
Knowledge base
Tickets
Pricing
The pricing is available upon request and depends on your business needs.
Pros
Advanced contact enrichment
Identity resolution to merge information from any data source
Integrations with popular sales intelligence and marketing automation platforms
Cons
It is expensive for smaller businesses
Configuring advanced features may require more time compared to other sales intelligence software
A steep learning curve
LeadIQ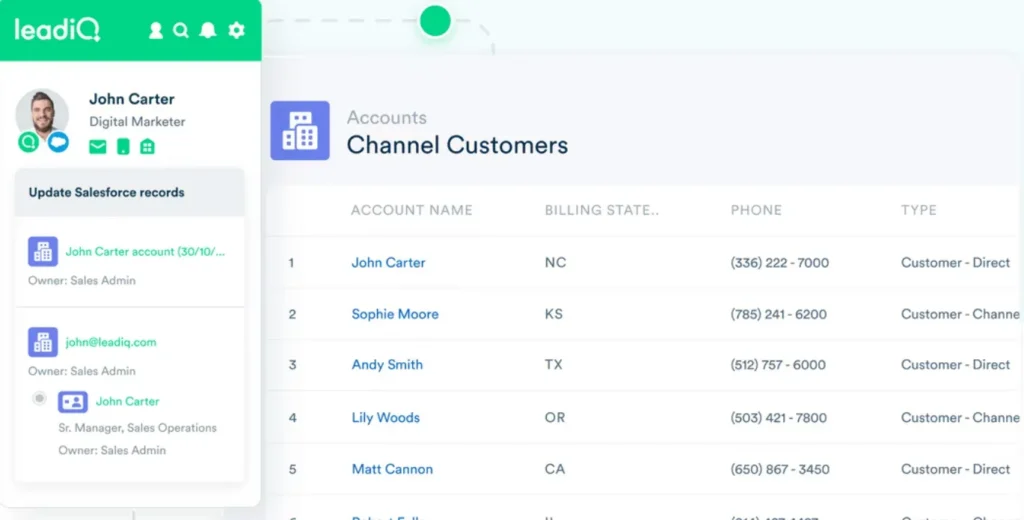 Image source: GetApp
LeadIQ is a sales prospecting and lead generation tool. It streamlines and automates lead generation tasks while providing insights to enhance sales productivity.
With LeadIQ, you can capture leads from multiple sources, including websites and LinkedIn. The tool extracts the crucial contact information, helping you engage with more customers.
Additionally, LeadIQ enriches this data by adding further details such as company size and industry, providing a comprehensive profile of each lead.
LeadIQ also provides Scribe functionality, an AI-powered email generator. It assists you in crafting personalized messages that align with your company's value proposition, enhancing your outreach efforts.
User rating
LeadIQ has 4.4 stars out of 5 on GetApp. Over 20 users left a review.
Features list
Prospecting tools
Contact management and enrichment
Lead capture
Pipeline management
Workflow automation
What makes this tool unique
LeadIQ doesn't collect basic B2B data. It automatically includes other data points like company details to give you a better understanding of your leads.
Integrations
LeadIQ integrates with various third-party tools, including Salesloft, Salesforce and HubSpot.
Customer support
You can contact the customer support team via email, phone or by submitting a ticket through a Support form.
Pricing
LeadIQ offers four plans:
Free
Starter – $85 per user a month
Pro – $140 per user a month
Enterprise – this is an annual plan and has custom pricing
Pros
Option to collect additional contact information
Excellent customer support
Seamless lead capture
Cons
Scribe needs improvement
Shows issues with data accuracy
Occasional glitches when using the Chrome extension
InsideView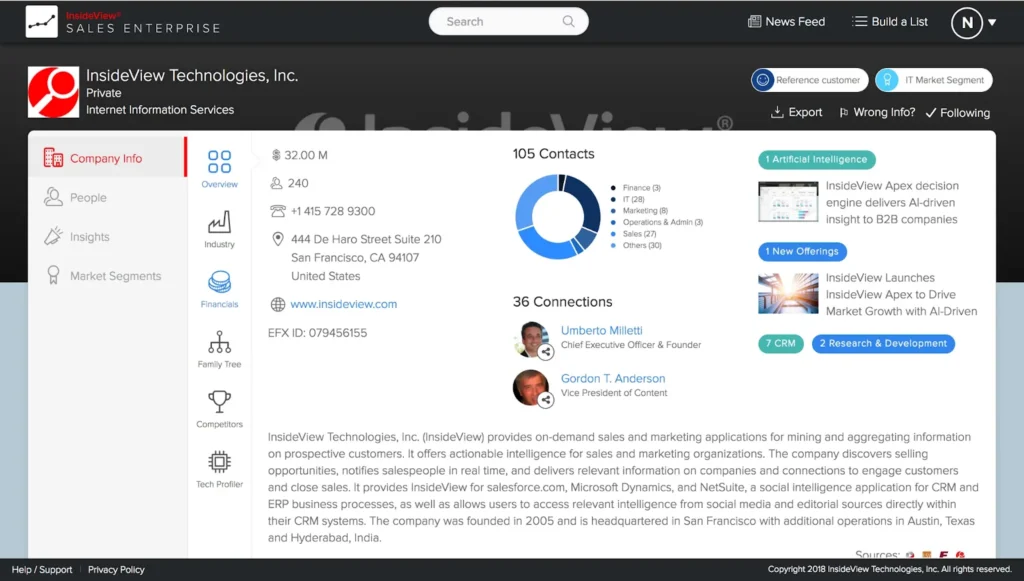 Image source: GetApp
InsideView is one of the popular Clearbit alternatives. It is a marketing and sales intelligence platform that offers sales enablement tools and B2B data. You can receive accurate information about every company and key decision-makers.
InsideView tracks news and social media mentions to deliver sales intelligence to your team. You can set up custom alerts to keep track of target accounts and leads.
User rating
InsideView scores 4.5 out of 5 on GetApp based on 38 reviews.
Features list
Competitive analysis
Segmentation
Prospecting tools
Customer database
What makes this tool unique
The sales intelligence platform prioritizes data accuracy and freshness. It leverages various sources and data validation techniques to provide relevant and up-to-date data.
Integrations
Here are some key integrations:
Salesforce
Marketo
Microsoft Dynamics 365
Customer support
The customer support team answers queries via phone and email.
Pricing
The pricing is available upon request.
Pros
Extensive database of contacts
Advanced business intelligence
Ease of use
Cons
Expensive for smaller businesses
Limited customization
Clearbit competitors: A short overview
Now, let's provide an overview of the leading Clearbit alternatives to understand how they compare.
Tool
User rating
Best for
Pros
Cons
Pricing
Golden Leads
Not available
Companies with aggressive revenue growth targets, providing unlimited B2B sales leads and cold outreach automation
Access to over 700 million records, a cloud-based and profile-independent tool, data scraping, cleaning, enriching and validation, hyper-personalized searches
Focuses on LinkedIn data only
Pay-as-you-go model, costs per result, member or email, cost-efficient and affordable
Leadfeeder
4.2
B2B companies, sales and marketing teams
Ease of use for basic features,
rich functionality,
detailed contact data,
company-level visitor tracking
A steep learning curve for advanced features,
limited individual visitor tracking
Starts at €199 per month
FullContact
4
Sales and business development professionals, larger businesses
Advanced contact enrichment,
identity resolution to merge information from any data source,
integrations with popular sales intelligence and marketing automation platforms
It is expensive for smaller businesses,
configuring advanced features may require more time compared to other sales intelligence software,
A steep learning curve
Available upon request
LeadIQ
4.4
Sales teams and lead generation experts
Option to collect additional contact information,
Excellent customer support,
Seamless lead capture
Scribe needs improvement,
some issues with data accuracy,
occasional glitches when using the Chrome extension
Starts at $85 per user a month
InsideView
4.5
Larger companies
Extensive database of contacts,
advanced business intelligence,
ease of use
Expensive for smaller businesses,
limited customization
Available upon request
Clearbit competitors: Our verdict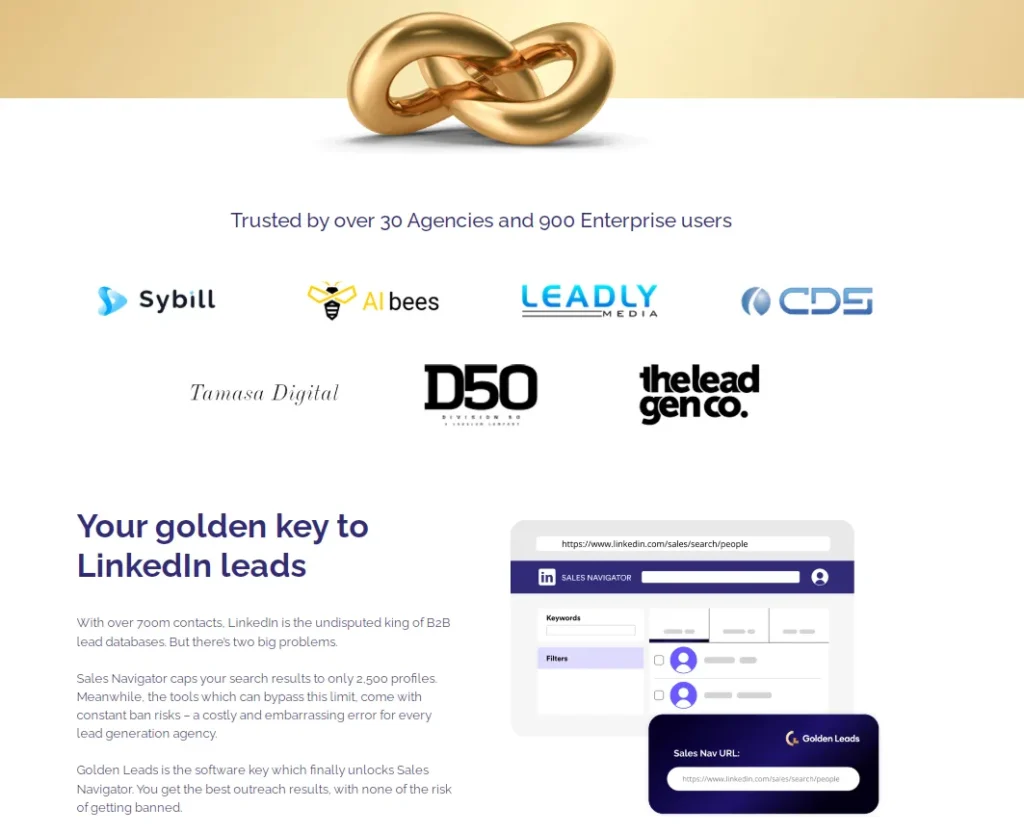 Golden Leads emerges as the preferred solution for businesses aiming to optimize their lead generation efforts.
With its powerful features and innovative approach, Golden Leads offers a comprehensive solution that streamlines the lead generation process while ensuring the accuracy and completeness of potential buyer data.
Golden Leads grants seamless access to LinkedIn Sales Navigator without restrictions, enabling you to extract data completely. By leveraging virtual accounts, the platform allows real-time data scraping while prioritizing the safety of your LinkedIn profile.
Through actionable insights and advanced analytics, Golden Leads empowers you to create highly personalized sales searches tailored to your target audience's unique needs and preferences.
Furthermore, Golden Leads eliminates the challenges associated with false or incorrect information on new leads. Our robust data scraping, cleaning, and validation procedures ensure that sales teams possess precise and up-to-date information about potential buyers.
Golden Leads adopts a flexible pay-as-you-go pricing model, allowing you to adjust your usage and expenses according to your specific requirements. This cost-effective approach caters to companies of all sizes and budgets, making Golden Leads a practical choice.
Considering its outstanding features, commitment to data integrity, personalized capabilities, and flexible pricing structure, Golden Leads stands out as the optimal data enrichment tool for businesses.
Unlock the full potential of your lead generation efforts by harnessing the power of Golden Leads and witness the remarkable impact it can have on your business.
FAQs about Clearbit competitors
What are the best Clearbit alternatives?
The best alternatives to Clearbit are sales intelligence platforms like Golden Leads, InsideView, LeadIQ, Leadfeeder and FullContact.
What is a sales intelligence platform?
A sales intelligence tool gives valuable insights and data to sales reps to support their work. It gathers and analyzes data to improve lead generation and prospecting.
Why is data quality important for sales and marketing teams?
Data quality is crucial because it ensures your team members direct their efforts toward the right audience. It helps them identify the most relevant prospects and send personalized messaging.
What is 6sense as a Clearbit alternative?
6sense enables revenue teams to discover and analyze anonymous buying behavior, prioritize private data sources, and engage resistant buying teams.