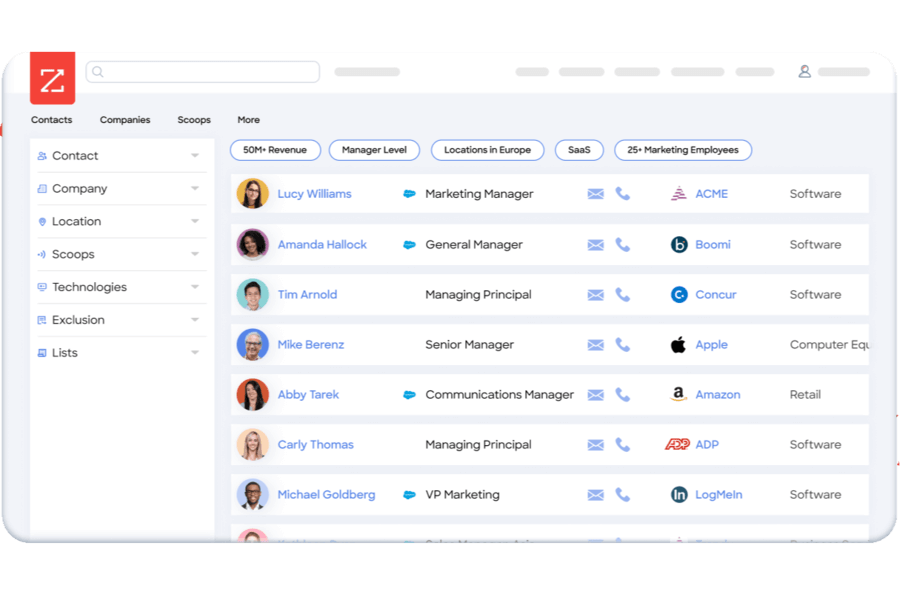 Image source: Crozdesk
Accurate and up-to-date customer data is crucial for successful sales. Business intelligence tools are now indispensable in acquiring, managing, and leveraging valuable contact information for growth strategies.
To maximize the benefits of sales tools, sales and marketing teams must carefully assess and choose the most suitable software for their requirements.
While ZoomInfo is a helpful platform, considering other tools can offer additional options and features that align better with your business.
In this article, we will compare five ZoomInfo competitors, providing insights to help you determine the best alternative available today.
Our criteria for choosing the best ZoomInfo alternative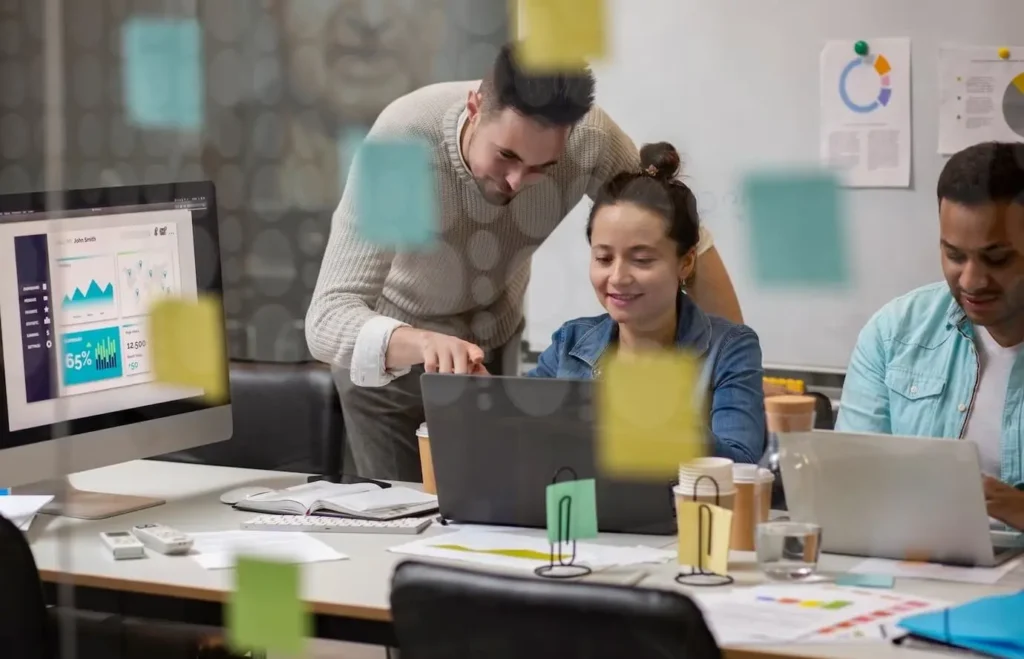 Image source: Freepik
Let's outline the criteria we used to create our list of the best ZoomInfo alternatives to help you better understand our selection.
Features and functionality: In our search for ZoomInfo alternatives, we examined tools that offer thorough contact information, advanced search capabilities, segmentation, and filtering options. We also considered whether they have data enrichment, validation, and cleansing capabilities to guarantee the accuracy and comprehensiveness of contact details.
User-friendliness: The best platforms offer a user-friendly experience with an easy-to-use navigation system. A well-designed and intuitive UI minimizes the learning curve and maximizes efficiency in utilizing the platform's features.
Cost-effectiveness: When determining the cost of a platform, it's essential to consider its scalability and any distinctive features it may include. Finding a balance between affordability and the value of the platform is crucial.
Customer support: We assessed customer support by looking for prompt and responsive support channels to address any issues or queries arising during usage. Reliable customer support ensures that technical or functional difficulties are resolved promptly with minimum downtime.
Pricing: You should continually evaluate the pricing models and plans and determine whether they align with your budget and business requirements. Look for transparency in pricing — reliable platforms will have their costs clearly outlined without any hidden fees.
Integration with third-party tools: Seamless integration with CRM systems or other sales and marketing tools enhances efficiency and data management. Look for platforms that offer Zapier integration or APIs that allow for smooth data synchronization, eliminating the need for manual data entry and reducing the risk of data discrepancies.
Current user reviews: They provide objective insights into user experiences and satisfaction with sales intelligence software like ZoomInfo. We researched user reviews for each alternative to understand their strengths and weaknesses.
After careful consideration, we have narrowed down the options and selected the top five tools that can assist you in obtaining business contact data.
The best ZoomInfo alternative in 2023
Now that we've discussed the criteria for our selection, it's time to reveal the top five solutions that can significantly enhance your sales process.
1. Golden Leads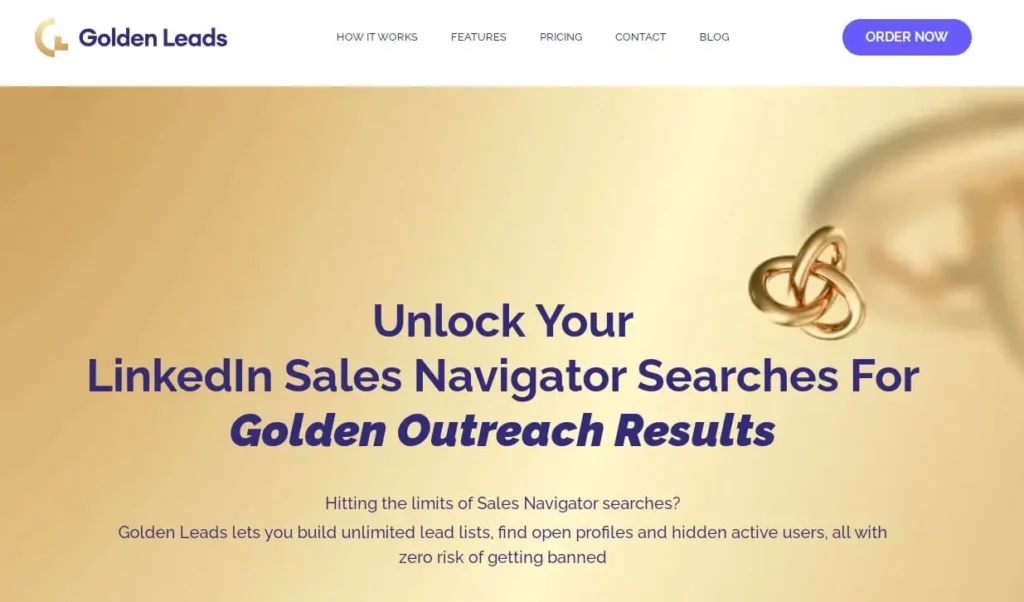 Golden Leads is an effective tool that uses data intelligence and enrichment to help you maximize your sales potential through LinkedIn.
Compared to other solutions that rely on outdated and ineffective information, Golden Leads offers accurate and up-to-date information on potential leads without compromising your LinkedIn account.
Contact us today to get more information.
Features list
Access an unlimited amount of data from LinkedIn Sales Navigator with ease. Say goodbye to the 2500 search result limit and scrape on a larger scale.
You'll have safe access to accurate contact information from over 700 million people, including their first and last names, company names, company URLs, LinkedIn profile IDs, and LinkedIn company IDs.
You'll receive the scraping results in your email in CSV format quickly and effortlessly.
Identify open profiles with 100% accuracy to supercharge your outreach campaigns. You can send free InMails faster and engage with potential contacts to maximize networking opportunities.
Discover all active LinkedIn users and confirm their recent engagement, including likes, comments, and posts within the last 30 days. This feature will help increase your connection request acceptance rates by 3-4 times, boosting the growth of your network.
What makes this tool unique
Golden Leads consists of three critical components:
LinkedIn scraping: Golden Leads offers a profile-independent solution to scrape LinkedIn Sales Navigator in real-time using virtual accounts. It ensures you don't violate LinkedIn's terms of service or risk a ban.
Email outreach: Golden Leads offers email enrichment to boost your outreach. Get validated emails from active LinkedIn users to focus on interested leads. Improve your communication strategy and connect meaningfully with your target audience.
Gathering competitors' leads: With Golden Leads, you can input URLs and receive information about all leads from LinkedIn company pages, group pages, and event pages. It allows you to easily filter and target these leads, giving you an advantage over your competitors and increasing your business opportunities.
Integrations
Golden Leads relies on and integrates with LinkedIn Sales Navigator.
Customer support
In case of any issues or questions, you can contact the Golden Leads team by email.
Pricing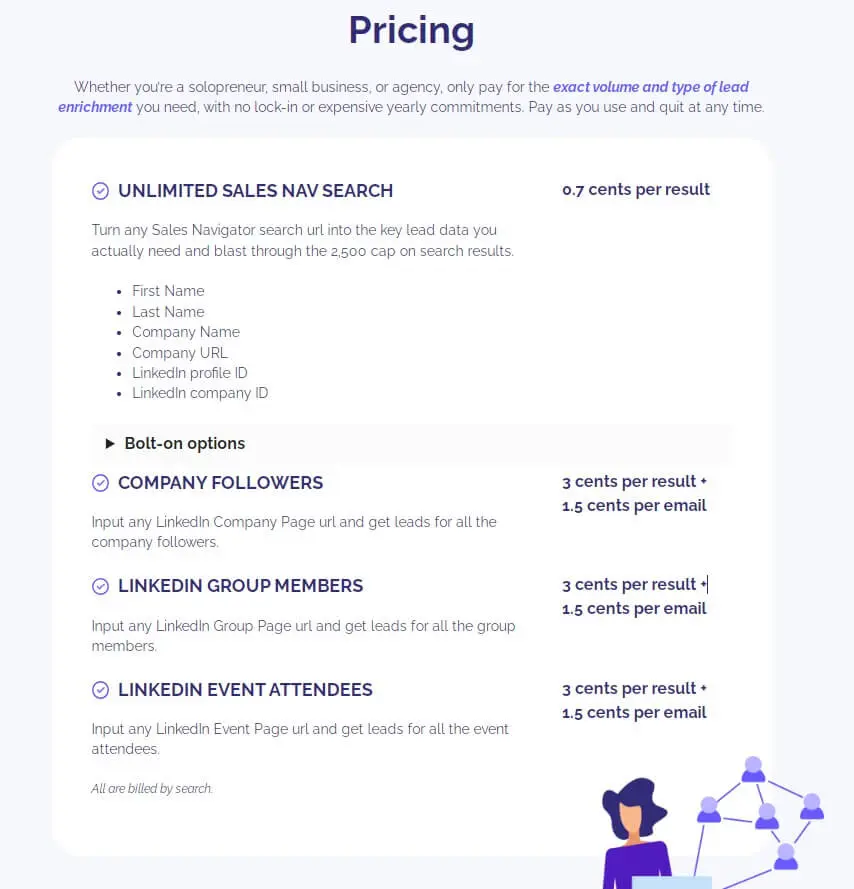 Feel free to contact us anytime if you have questions about our pricing.
We offer a flexible pay-as-you-go model that eliminates the need for fixed monthly fees or long-term commitments.
This approach allows you to adjust your usage as needed, ensuring a cost-effective solution that meets your requirements.
Pros
Sources information from LinkedIn Sales Navigator data
Enhances collaboration between your marketing and sales teams
Increases revenue and maximizes the lifetime value of your customers.
Creates more upsell and cross-sell opportunities
Reduces the duration of the sales cycle
Enhances the probability of closing deals faster.
Increases contract values and promotes customer retention
Cloud-based and incredibly user-friendly
Cons
Currently, its main emphasis is on LinkedIn data
2. UpLead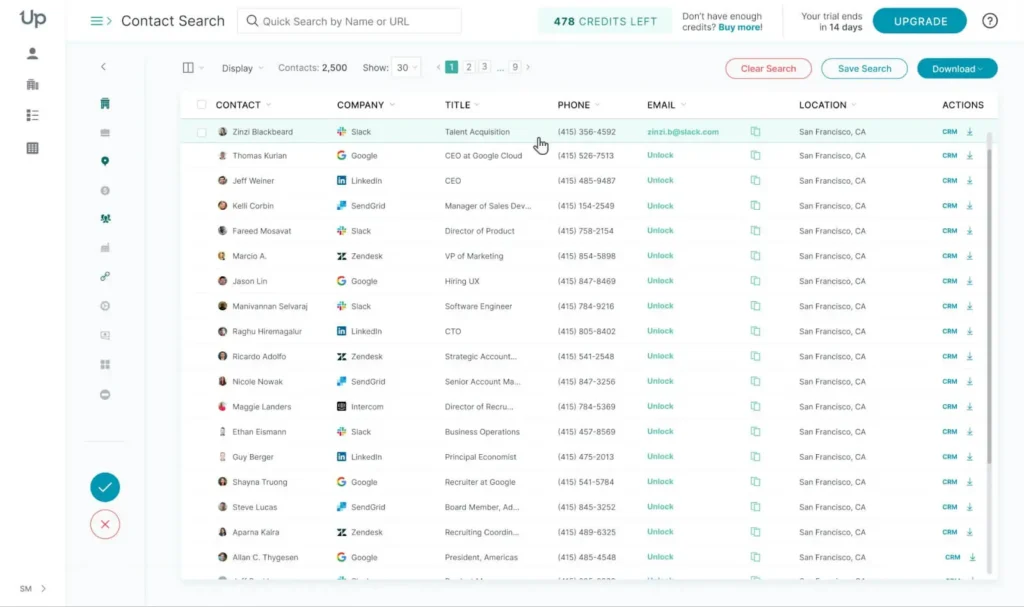 Image source: G2
UpLead is a B2B contact database that helps create accurate contact lists. It streamlines and optimizes the lead generation process by providing reliable prospect data.
The company boasts a 95% or higher accuracy rate, making it the only B2B database to offer such a guarantee.
User rating
UpLead has solid user ratings across most review sites, including a 4.7 out of 5 stars on G2 and Capterra.
Features list
Clean and accurate data for your lead management
Advanced functionalities such as technographic, intent data, and bulk lookup
Data enrichment and email verification capabilities
Sophisticated searches to refine your results with 50+ search filters
API access to scale your B2B prospecting efforts
What makes this tool unique
UpLead claims to provide 95% accuracy in B2B data prospecting, supported by positive user reviews. The tool offers reliable and clean data, and its user interface is intuitive and easy to navigate.
Integrations
UpLead connects with Zapier, meaning you can integrate the platform with thousands of other apps, including Google Sheets, HubSpot, Slack, PipeDrive, and Salesforce.
Customer support
You can contact UpLead via email or phone in case of any issues or questions.
Pricing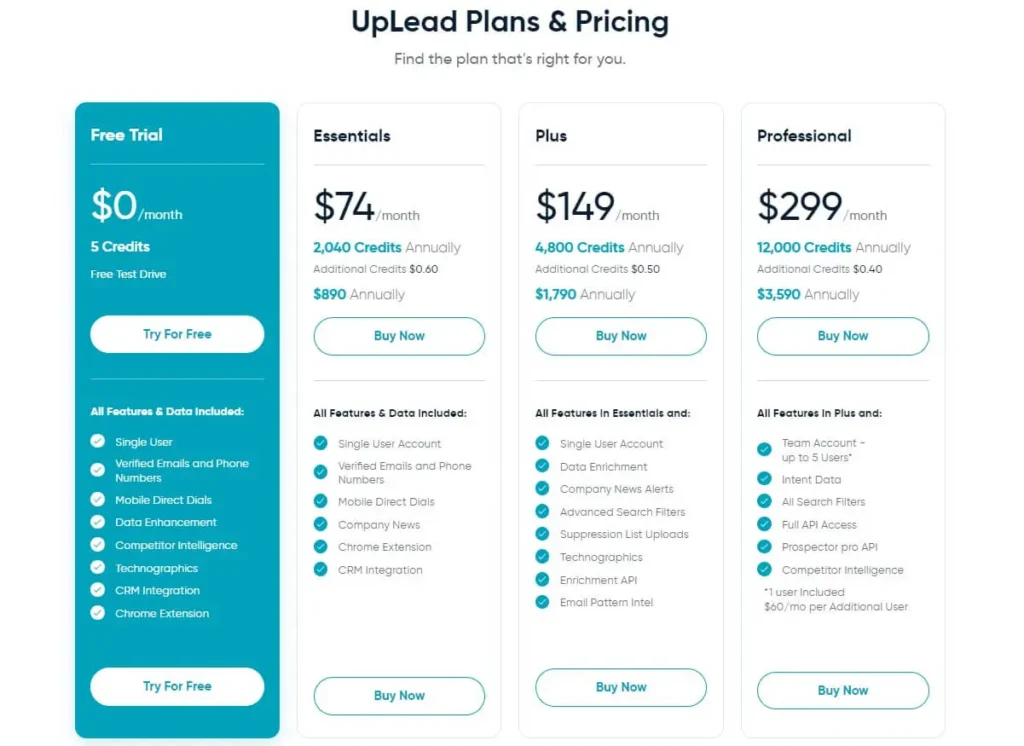 Image source: UpLead
UpLead's pricing model includes a free trial and currently offers three subscription plans:
Essentials — $74/month
Plus — $149/month
Professional — $299/month
Pros
Top-notch customer support
Straightforward and user-friendly interface
Greater data accuracy compared to ZoomInfo
Cons
The pricing model is on the more expensive side
Their database is not as comprehensive
3. Apollo.io
Image source: SaaSworthy
Apollo is a sales intelligence tool and engagement platform with various features to enhance prospecting, engagement, and revenue generation efforts.
Their B2B database boasts an extensive collection of over 260 million contacts and 60 million companies. Apollo and ZoomInfo are competitors in the size and scope of their business email and phone databases.
User rating
Apollo has solid user ratings across most review sites, including 4.8 out of 5 stars on G2 and 4.6 out of 5 on Capterra.
Features list
Vast contact database
Data enrichment and enhancement capabilities
Sophisticated search filters for advanced targeting
Tools designed explicitly for account-based marketing strategies
What makes this tool unique
Apollo is a business intelligence tool that uniquely integrates two essential functions: a comprehensive contact database and the capability to execute full outbound marketing campaigns.
Integrations
To optimize your existing workflows, Apollo integrates with various third-party apps such as LinkedIn, Gmail, Salesforce, HubSpot, Outreach, and Salesloft.
Customer support
You can email the customer support team with questions or concerns. However, this service is not available for the Free plan.
With higher pricing plans, you get access to a dedicated Customer Success Manager who can provide additional benefits and support.
Pricing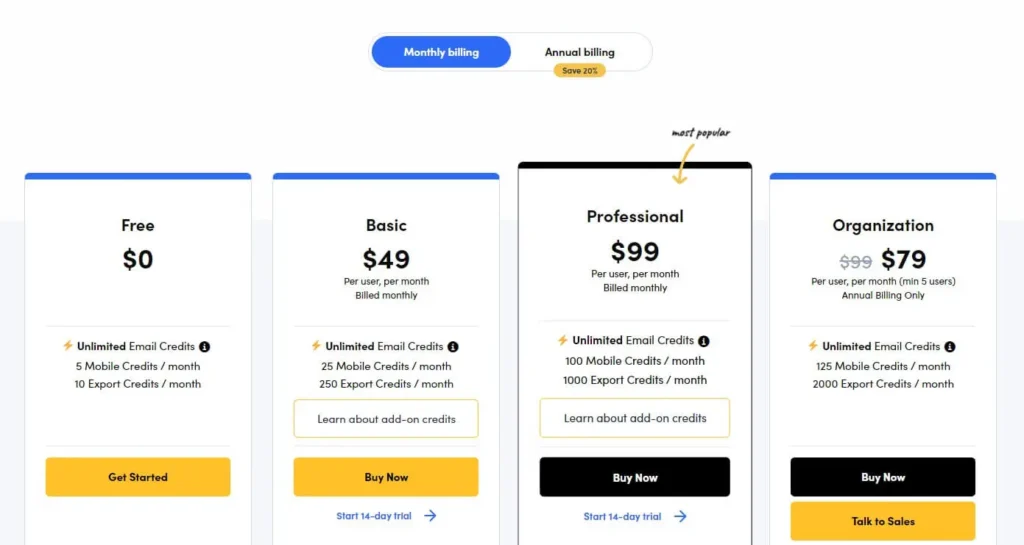 Image source: Apollo
Apollo offers a free plan and monthly and yearly billing options. The annual billing options have a 20% discount compared to the monthly subscription plans below
Basic — $49/month
Professional — $99/month
Organization — currently $79/month
Pros
Extensive collection of contacts
Ability to create sequences for emails, calls, and tasks
Automated email functionality with pre-designed templates and A/B testing
A more streamlined and straightforward end-to-end solution in comparison to ZoomInfo
Cons
Security issues (two data breaches in recent years)
Frequent changes to their pricing model
By subscribing to their service, you grant them access to your customer-submitted data to enhance Apollo's datasets
4. Seamless AI
Image source: G2
Seamless AI is another prominent alternative to ZoomInfo, employed by more than 200,000 sales, marketing, and recruitment teams to optimize revenue and capture their entire target market.
B2B companies like Slack, Amazon, and Facebook have embraced this platform to streamline their lead generation efforts.
User rating
Seamless AI has a decent user rating of 4.2 out of 5 stars on G2 and a not-so-great score of 3.8 out of 5 stars on Capterra.
Features list
Creating lists of potential prospects using organizational charts
Customizing email sequences with personalized company insights and conducting tests
Automating follow-up emails for outreach campaigns
Access to premium add-ons for consent-based intent data and data enrichment
What makes this tool unique
Seamless AI is a search engine that operates in real-time. It uses AI technology to search the internet for information on potential prospects.
Users can try out the platform's features and assess its effectiveness before signing up for a paid plan by using the free credits provided by the platform.
Integrations
Seamless AI connects with Zapier, which means you get over 5,000 additional app integrations, including Salesforce, Recruit CRM, Google Sheets, and more.
Customer support
You can contact the customer support team via email or phone.
Pricing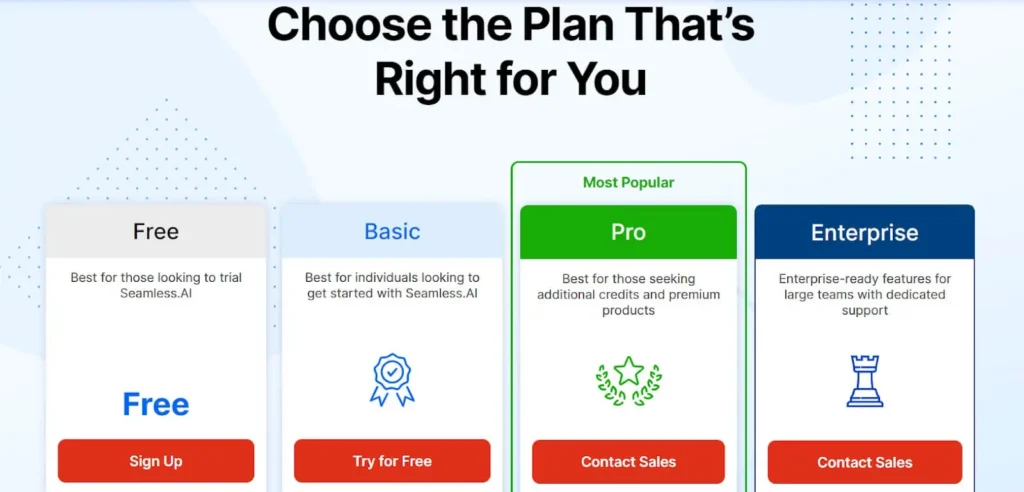 Image source: Seamless AI
Seamless AI doesn't have publicly available pricing — you need to contact their sales team for a quote based on your business requirements.
Pros
Useful functionalities, even with a free plan
Smooth export options to various CRM systems
Easy to use and navigate
Cons
By far lowest user ratings compared to other platforms on this list
Frustrating email bounce rates
The information provided for contacts might not be sufficient to be the primary source for leads because it lacks comprehensive details
5. Lead411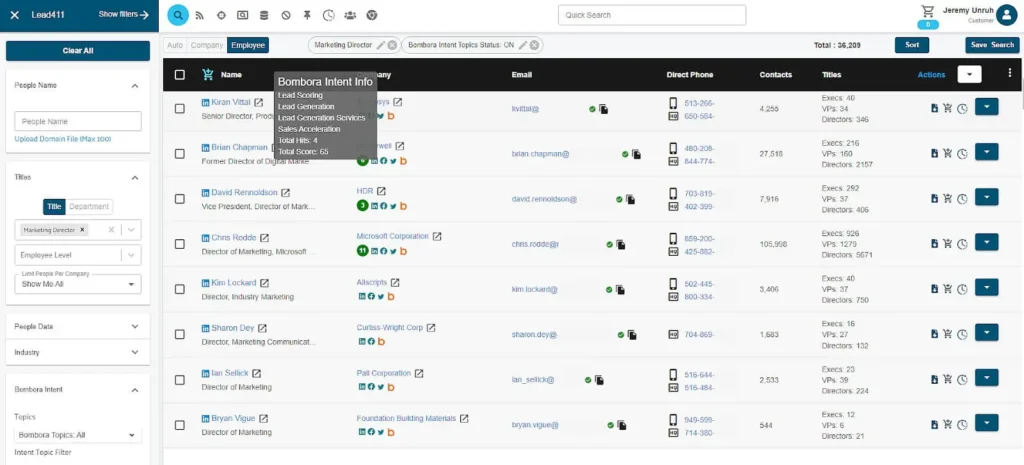 Image source: G2
Lead411 is a valuable tool for obtaining verified leads that may be difficult to acquire through other methods. You can utilize Lead411 to create B2B email lists, including precise B2B direct dials motivated by growth intent.
User rating
Lead411 has a decent user rating of 4.5 out of 5 stars on G2 and 4.6 out of 5 on Capterra.
Features list
Sequencing and automating email communications
Validation of emails through SMTP, manual procedures, and verification of email opens
Sales enablement email and SMS campaigns
Ability to match locations for direct dialing
What makes this tool unique
Lead411 offers a comprehensive range of data, including company information, employee details, growth intent data, and dedicated features for sales and marketing purposes.
Similar to ZoomInfo, Lead411 focuses primarily on the US market, but it distinguishes itself by claiming to perform more frequent email re-verification compared to ZoomInfo.
Integrations
The platform offers various CRM system integrations, including HubSpot CRM, Salesforce, and Insightly.
Customer support
Lead411 provides customer support for their users through email and phone.
Pricing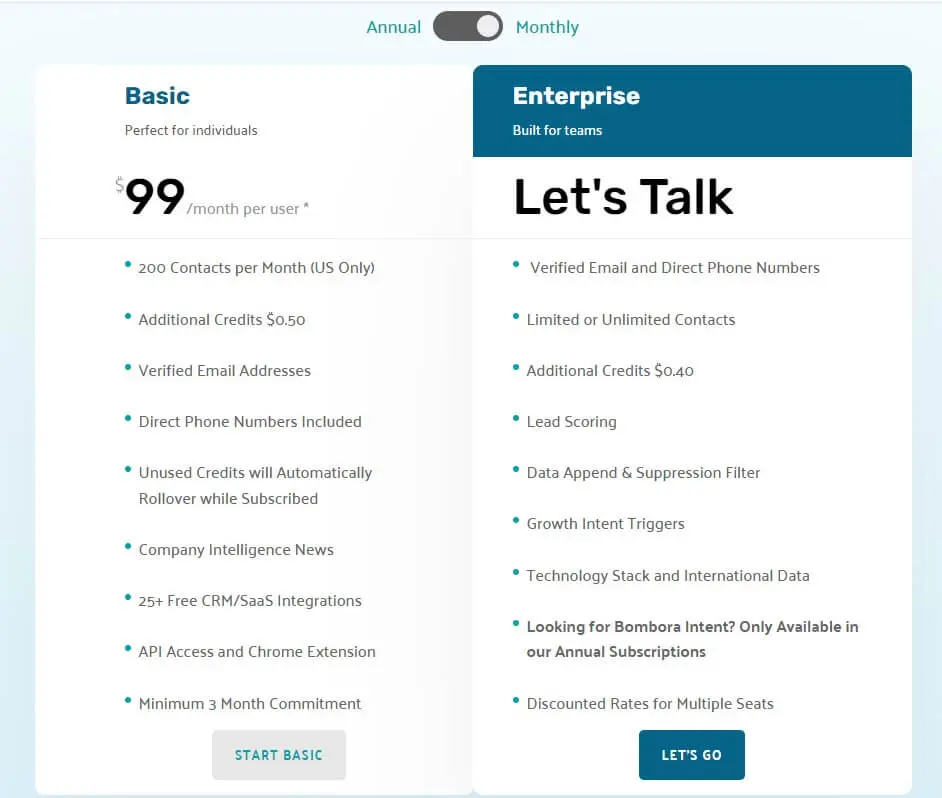 Image source: Lead411
At Lead411, users can select either monthly or yearly billing options. The standard annual subscription plan costs $900 per user, but they also offer advanced packages with higher costs.
Here are their monthly subscription plans:
Basic — $99/month per user
Enterprise — contact their sales team for a quote
Pros
Intelligent Sales Trigger, which alerts users to important events like job changes, promotions, or competitor product announcements
Search filters include job titles, geographical locations, specific technologies, revenue, etc.
Verified database of business emails and direct dial phone numbers
Seamless integration with multiple CRM platforms, reducing the time required for data import
Cons
They cater to US users only
The user interface seems complex at times
Alternative to ZoomInfo: a short overview (comparison table)
We have prepared a comparison table to assist you in making a quicker decision.
| | | | | | |
| --- | --- | --- | --- | --- | --- |
| Tool name | User rating | Best for | Pros | Cons | Pricing |
| Golden Leads | N/A | Businesses of all sizes | Access to over 700 million records, a cloud-based and profile-independent tool data scraping, cleaning, enriching and validation, hyper-personalized searches | Currently focuses on LinkedIn only | Pay-as-you-go model, costs per result, member or email, cost-efficient and affordable |
| UpLead | 4.7 | Businesses aiming to speed up their growth | Great customer support, user-friendly interface, better data accuracy | Expensive pricing model, database is not comprehensive | $74/month (basic plan) |
| Apollo | 4.8 | Companies that need help with lead generation | Extensive database, email and call sequences, email automation, A/B testing | Security issues, frequent changes to pricing, access to your customer-submitted data | $49/month (basic plan) |
| Seamless AI | 4.2 | Businesses that do not require high data accuracy | Good functionalities with the free plan, smooth data export options to CRM, easy to use | Low user ratings, poor customer support, email bounce rates, not enough detail for contacts | Ask for a quote |
| Lead411 | 4.5 | Large businesses | Lots of search filters, intelligent Sales Trigger functionality, verified contact database, seamless integration options | US users only, complex user interface | $99/month (basic plan) |
What is the best ZoomInfo alternative?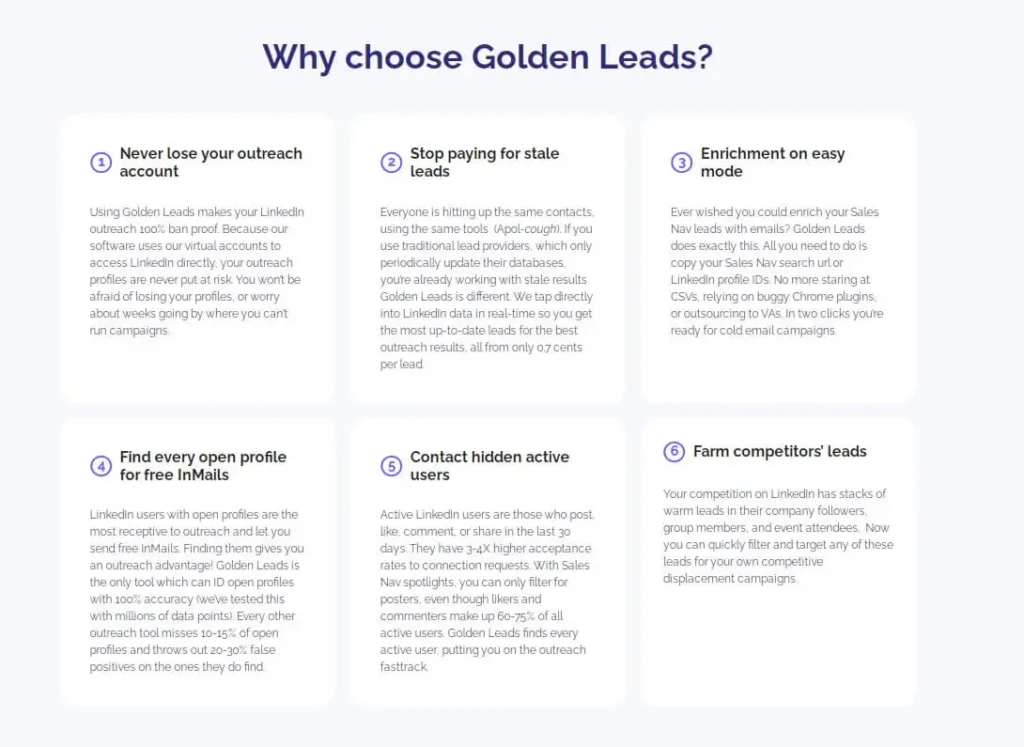 If you're seeking the ultimate tool to gather business contact information through LinkedIn Sales Navigator, look no further than Golden Leads.
Our robust solution includes various features, from data scraping and cleaning to enrichment and validation, guaranteeing that your sales team always obtains reliable, up-to-date information on potential leads.
Golden Leads offers hyper-personalization capabilities, making it a breeze to customize your outreach efforts for optimal success.
Forget about the frustration caused by outdated or incomplete data – with Golden Leads, your sales process will be much more efficient and effective, leading to your business growth.
Fill out our form for more information.
FAQs about ZoomInfo alternative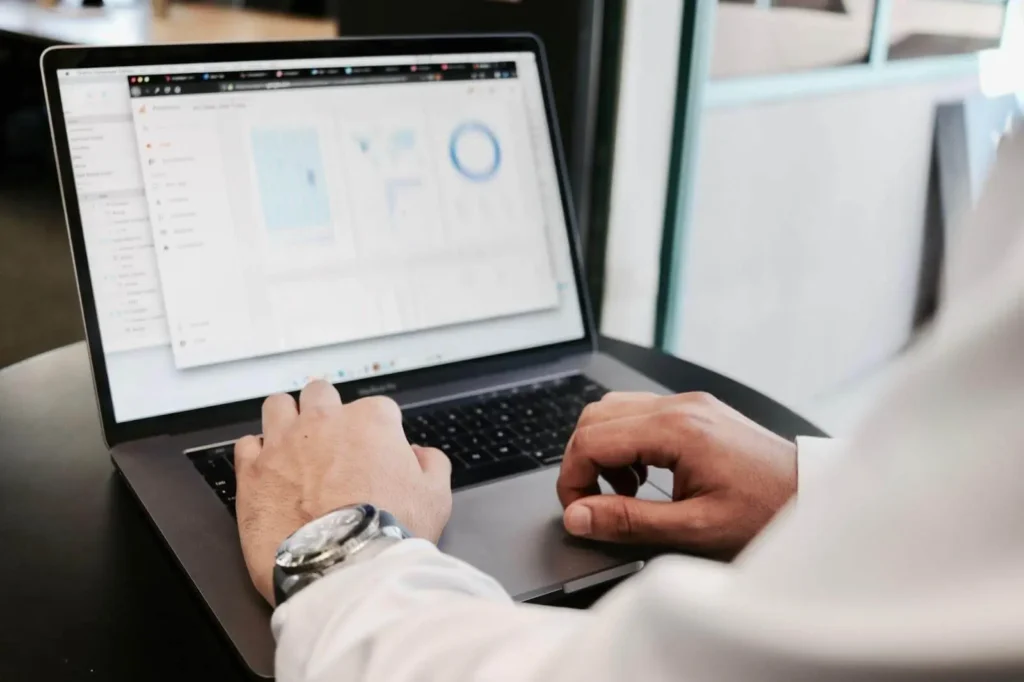 Image source: Unsplash
Let's answer frequently asked questions about ZoomInfo alternatives.
What is a sales intelligence platform?
A sales intelligence platform is a tool or service that provides businesses with insights, quality data, and analytics to support their sales and marketing efforts. It helps identify potential customers, gather information about them, and make informed decisions to drive sales revenue.
What is data enrichment?
Data enrichment is the process of enhancing existing customer data by adding additional information, refining raw data points, or validating and updating the accuracy of your internal data.
This process helps improve customer data quality, completeness, and usefulness for various purposes, such as lead generation, customer profiling, and personalization.
What is the best ZoomInfo alternative?
While ZoomInfo has several alternatives, Golden Leads is one of the best choices for your business. Fill out our form for more details.
Who is ZoomInfo com competitor?
Several alternatives to ZoomInfo are worth considering, such as Golden Leads, Apollo.io, and UpLead.
Why not use ZoomInfo?
There are various reasons why sales professionals might decide not to use ZoomInfo.
Some common concerns include its high pricing model, certain limitations in sales intelligence data quality and accuracy, and potential privacy and data usage issues.
Businesses should explore sales intelligence tools and ZoomInfo alternatives that better suit their specific needs or provide more cost-effective solutions for their company data. Golden Leads is one of the best alternatives.
Fill out our form for more details.
Is there a free version of ZoomInfo?
If sales teams are interested in using ZoomInfo for free, they can do so through the Community Edition process. However, you should visit the ZoomInfo website or directly contact their marketing and sales team to get updated pricing and offerings.