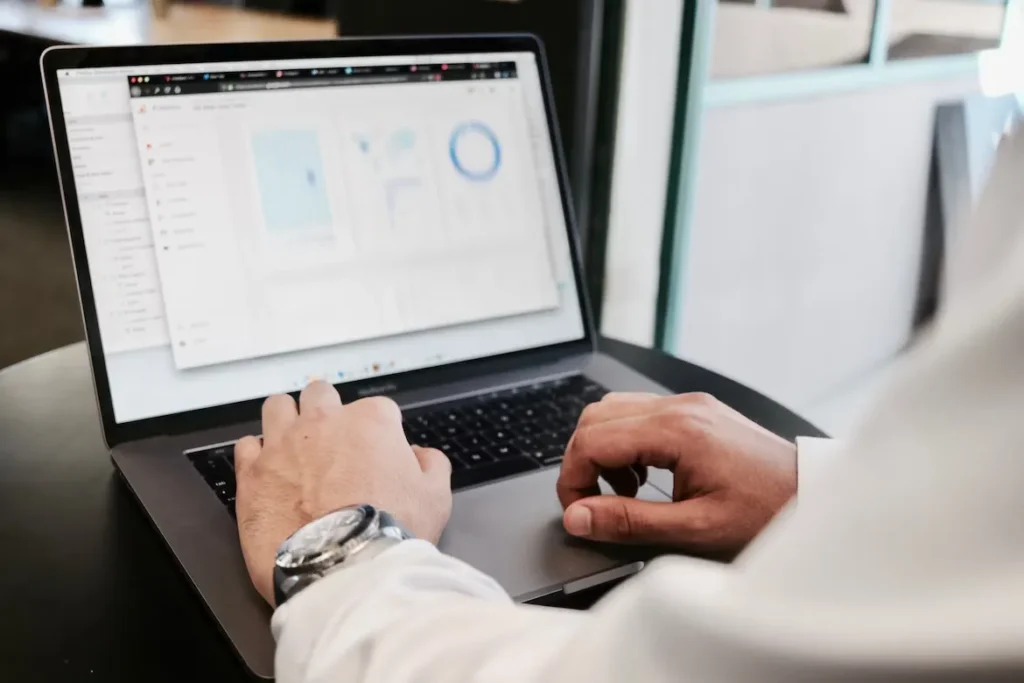 Image source: Unsplash
Most companies can't afford to market their products and services to everyone – they need to target their efforts to avoid wasting time and money, which means they need to employ account-based marketing strategies.
It's especially apparent in the B2B sector – a 2020 report from Terminus shows that companies that successfully use ABM believe it's responsible for 79% of their opportunities and 73% of their total revenue.
However, successful ABM programs require good tools, such as Demandbase – one of the well-known platforms for account-based marketing and B2B advertising.
However, Demandbase isn't the only option for this purpose.
For example, using LinkedIn Sales Navigator, Golden Leads helps you conduct hyper-personalized sales searches for specific target accounts. It lets you create an accurate and updated list of essential leads, collect, enrich and validate their contact information and boost your results.
Fill out the form to learn more about all the features of Golden Leads.
In the following sections, we will delve deeper into the landscape of Demandbase competitors, exploring alternative solutions that rival its capabilities and offerings.
Our criteria for choosing the best Demandbase competitors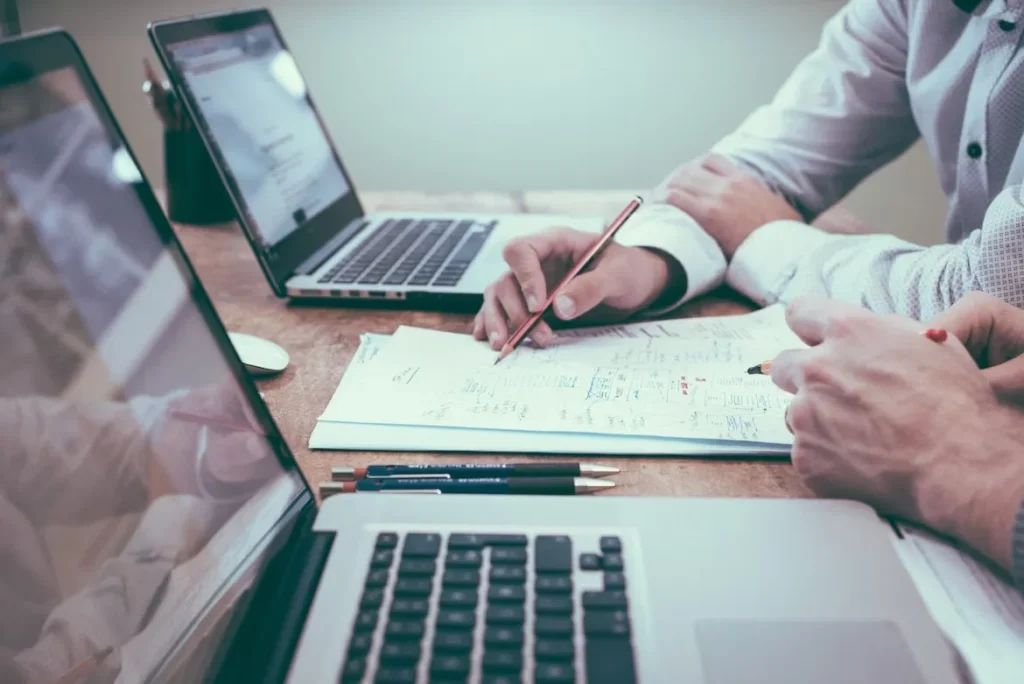 Image source: Unsplash
While compiling our list, we meticulously evaluated each platform based on some essential parameters. These factors include:
Features and functionalities: We analyzed the capabilities and offerings of each tool, providing a concise summary of what they can do and the value they bring to users.
User-friendliness: We carefully evaluated the user-friendliness of each platform, ensuring that individuals with different technical expertise can easily use the tools.
Pricing and cost-effectiveness: We considered the pricing structures and any additional costs associated with the platforms. This analysis helps you assess the overall cost-effectiveness of each solution and determine the best fit for your budget.
Customer support: We assessed the customer support quality, availability of comprehensive documentation, and multiple contact channels to ensure you have timely access to assistance and resources.
Integration with third-party tools: We evaluated the integration capabilities of each solution with popular apps and platforms, enabling you to incorporate them into your existing business ecosystem seamlessly.
User reviews: We considered the scores and feedback from reputable review platforms like G2 and Capterra, as user reviews offer valuable insights into existing customers' satisfaction levels and real-world experiences.
Each platform mentioned in this article has unique strengths and advantages, enabling you to select the solution that best aligns with your demands.
The best Demandbase competitors in 2023
Let's share our top five choices for the best Demandbase competitors you can start using today, according to our expert opinion.
Golden Leads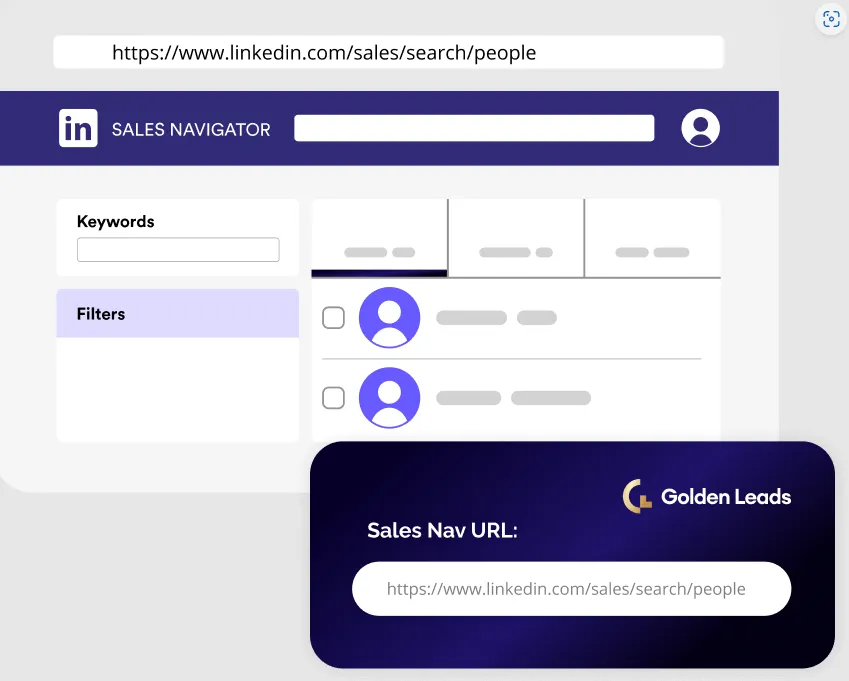 Golden Leads is a data intelligence and enrichment tool that harnesses the power of LinkedIn, the prominent business social network, to help you enhance lead generation and drive sales growth while keeping your account safe.
Golden Leads provides accurate and up-to-date data on potential leads, enabling more effective and targeted outreach. It sets it apart from other solutions that rely on outdated and stale information.
Golden Leads also offers powerful hyper-personalization capabilities. You can create highly customized sales searches that align with your target audience's requirements. It enhances engagement and improves the chances of converting leads into customers.
Features list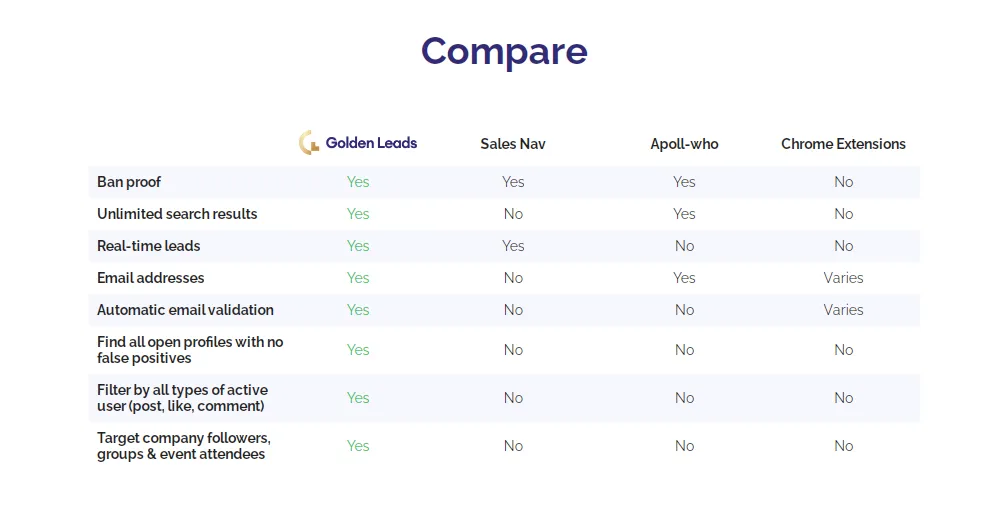 LinkedIn data extractor: It allows you to extract data from LinkedIn Sales Navigator without any restrictions. Golden Leads overcomes the limitations of 2,500 results per search and enables you to scrape data on a larger scale.
Vast database: With access to over 700 million potential connections, you'll receive valuable details such as first name, last name, company name, company URL, LinkedIn profile ID, and LinkedIn company ID.
Enhanced data delivery: Enjoy the convenience of receiving your scraping results in CSV format directly to your email, making the process seamless and prompt.
Open and hidden profile identification: Boost your outreach efforts with this feature that ensures 100% accurate identification. Enhance your outreach campaigns and engage with potential contacts by sending free InMails.
Active user discovery: Discover all active users on LinkedIn and gain insights into their recent engagement, including likes, comments, and posts within the last 30 days. You can strategically approach individuals more likely to respond and significantly improve your connection request acceptance rates to accelerate the growth of your network.
Golden Leads empowers you to optimize your LinkedIn prospecting and networking strategies, ultimately driving your business growth and success.
Fill out our form to learn more
What makes this tool unique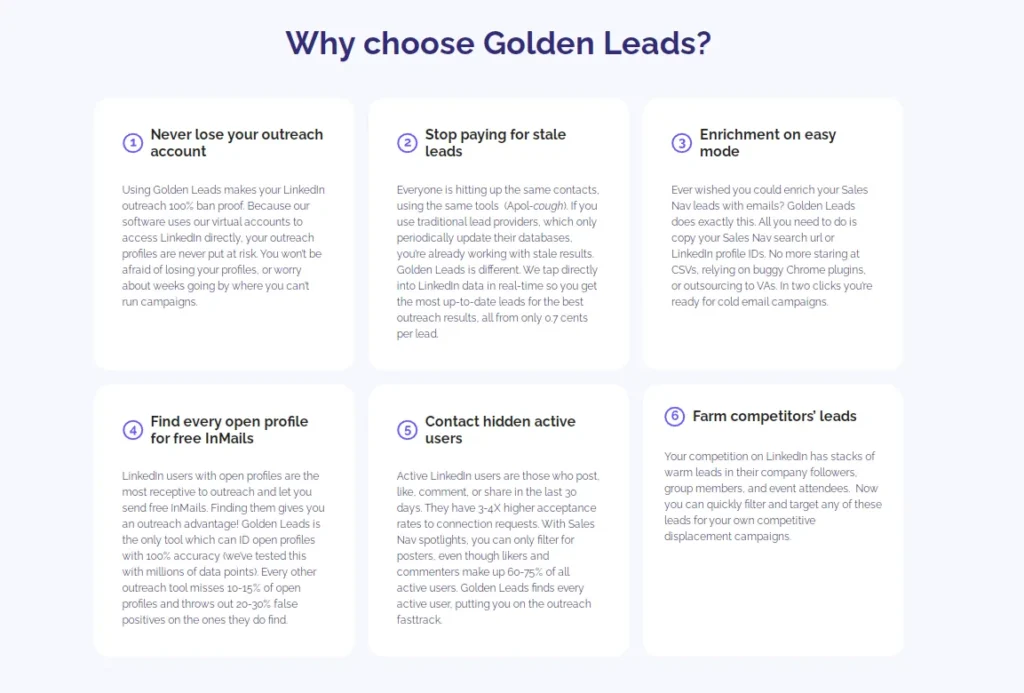 LinkedIn scraping: You can scrape LinkedIn Sales Navigator in real-time without using your profile. Golden Leads provides virtual accounts to extract data without the risk of being banned from LinkedIn.
Email outreach: By extracting data from active LinkedIn users, you can get validated emails and create targeted and personalized email campaigns for prospects more likely to be interested in your products or services.
Access to competitors' leads: Golden Leads lets you gain insights into your competitors' targets by listing leads from LinkedIn pages, groups, and events using a source URL. It lets you stay informed about your competitors' prospects, expanding your reach and helping you identify potential opportunities that align with your business goals.
Integrations
Golden Leads seamlessly integrates with LinkedIn, allowing you to effortlessly extract data from Sales Navigator, uncover active users on the platform and enhance your sales and prospecting activities.
Customer support
Our customer support team is just a form submission away on our website for any assistance you may require. Our dedicated representatives respond promptly and will gladly provide you with the guidance and support you need.
Pricing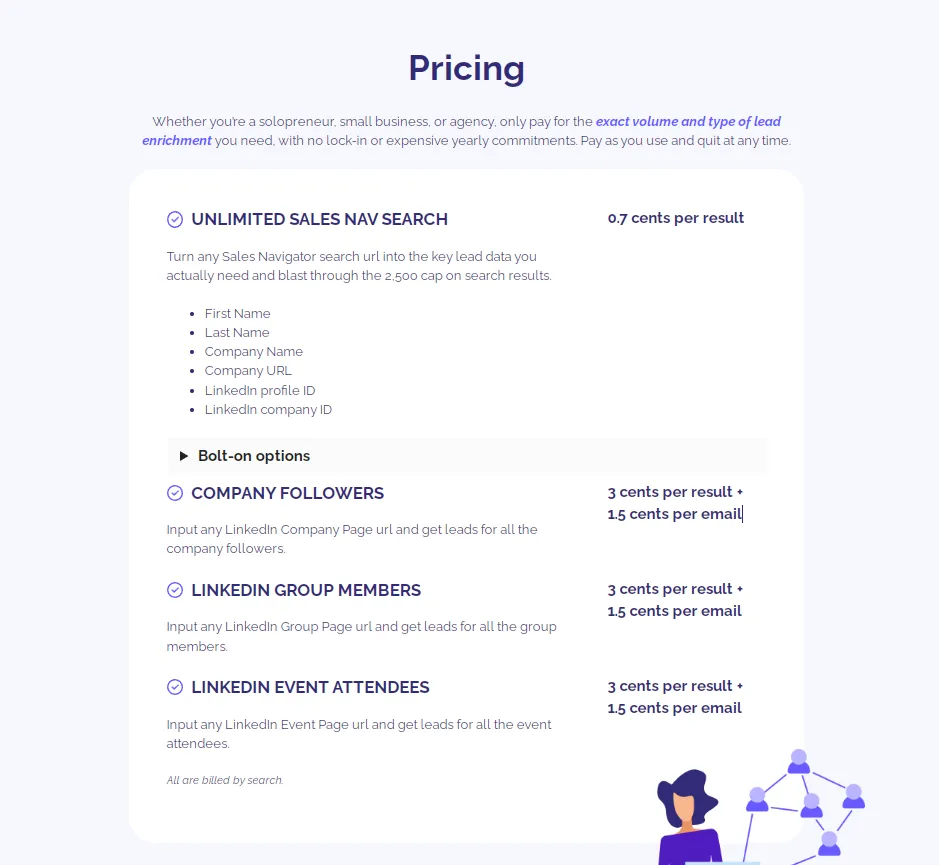 At Golden Leads, we understand the importance of flexibility and cost-effectiveness. That's why we offer a pay-as-you-go pricing model, allowing you to adjust your usage according to your needs.
With no long-term commitments or fixed monthly fees, our pricing structure ensures that our solution remains affordable and fits within your budget.
You can contact us anytime to learn more.
Pros
Enhances marketing and sales collaboration
Boosts revenue and customer lifetime value
Increases upsell and cross-sell opportunities
Shortens sales cycle, closes deals faster
Increases contract values and customer retention
Relies on reliable LinkedIn Sales Navigator data
User-friendly interface
Low learning curve
Cloud-based
Cons
Focuses on LinkedIn data only
RollWorks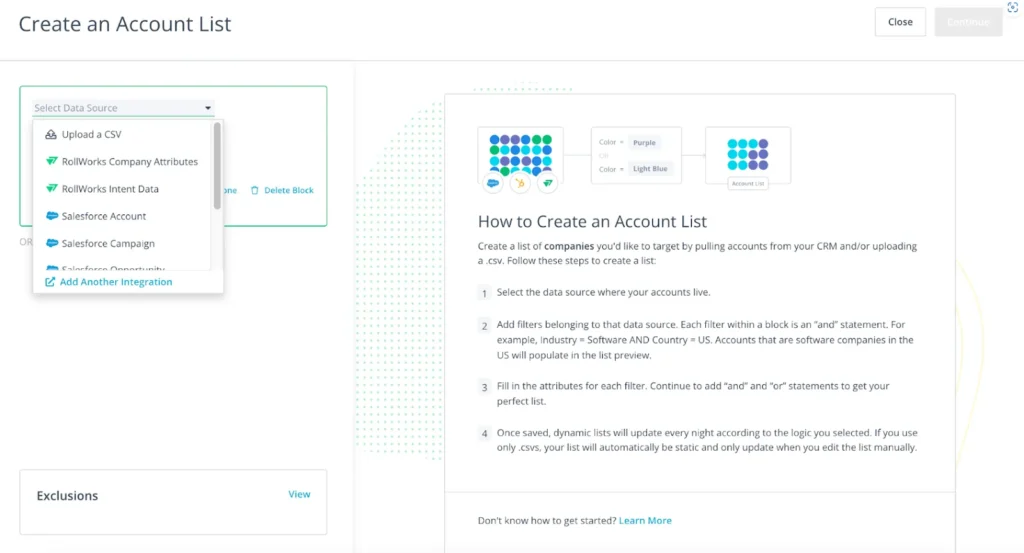 Image source: G2
The second position on our list of Demandbase's competitors is for RollWorks. It's an account-based sales-enablement platform that helps B2B companies from the information technology and services industries improve revenue and align their sales and marketing teams. The company is a division of NextRoll.
User ratings
RollWorks has a 4.2 rating on G2 and a 4.5 rating on Capterra.
Features list
Identification: It helps you find your ideal customer profile, identify decision-makers, build an account list, and target these high-value accounts
Engagement: It allows you to run account-based, retargeting, and personalized ads and offers automated e-mail follow-ups
Measurement: It helps you measure the effectiveness of your efforts thanks to campaign analytics and an account-based dashboard. You can also track the progression of target accounts and analyze their buying journey.
What makes this tool unique
RollWorks combines scraping techniques with comprehensive analytics tools, which you can access through the platform or your integrated CRM system.
Integrations
You can integrate RollWorks with various solutions: HubSpot, Pardot, Marketo, LinkedIn, Facebook, Instagram, Site Traffic, Google Analytics, Outreach, Alyce, and more.
Customer support
RollWorks has a detailed Help Center. You can also contact the company via chat or e-mail or ask the community for help.
Pricing
RollWorks has three pricing plans – Standard, Professional and Ultimate – with different features designed for companies of varying sizes. However, there are no pricing details on the website.
Pros
Advanced analytics
Large and accurate database
Cons
There are no pricing details on the website
Some users complain about the quality of received contact information
It has a high learning curve
Bombora
Image source: G2
Bombora is a platform that provides intent data for B2B sales and marketing. It helps you identify and connect with prospects actively researching your products or services. Bombora collects and analyzes data from B2B websites covering various Intent topics and shedding light on anonymous buying behavior.
User rating
Bambora has a 4.4 rating on G2 and a 4.5 rating on Capterra.
Features list
Identifying hot accounts – Bombora looks at what potential buyers are researching to identify those who are most ready to purchase
Outreach help – The tool helps you collect and analyze intent data, and then customize content and find the right message to fit the buyers' interests
Amplify engagement – Bombora provides a holistic view of your buyer's intent, which helps you identify the most effective course of action to boost your sales efforts
What makes this tool unique
Bombora focuses on buyers' needs and interests – it's not just about finding leads but understanding them better to make sales more effective.
Integrations
Bombora integrates with tools like Marketo, Salesforce, Outreach, Cognism, and 6sense to engage resistant buying teams, SalesIntel, Adobe Audience Manager, LinkedIn, and Hubspot.
Customer support
Bombora has a dedicated customer support page. You can contact the company using phone or e-mail.
Pricing
There are no pricing details on the website.
Pros
Focus on intent data
Good integration options
Cons
There are no pricing details
Some users complain about the quality of data
Folloze
Image source: G2
Folloze is a complex, comprehensive platform for B2B marketing teams. You can use it to design branded content, improve the cooperation between your sales and marketing departments, and optimize engagement. It also provides account targeting tools and a suite of other features.
User rating
Folloze has a 4.8 rating on G2 and a 5.0 rating on Capterra.
Features list
Personalized buyer's experience: You can customize ABM landing pages, and the platform provides recommendations based on machine learning to guide you in the right direction
Connecting sales and marketing: The software integrates with tools used by sales and marketing teams and helps them work together better
Deepening engagement: You get actionable insights regarding account-level engagement, and you can track behavioral data related to the buyer's journey
Account targeting: Folloze automatically prioritizes high-propensity accounts
What makes this tool unique
Folloze is part of a much larger package. You can also use the platform for cookie matching, ChatGPT-powered content auto-tagging, creating brand messaging, and more.
Integrations
Folloze integrates with 6sense, Demandbase, Outreach, Dun & Bradstreet, Marketo, and Eloqua.
Customer support
Folloze has a dedicated help center. If you have problems or questions, you can submit a ticket on the website or contact the company using e-mail.
Pricing
There's no pricing information on the website.
Pros
A suite of various handy features
Interesting AI-powered tools
Cons
Many companies might not need all these features in one package
No dedicated lead scraping capabilities
ABM features aren't a focus
Lack of transparent pricing
Albacross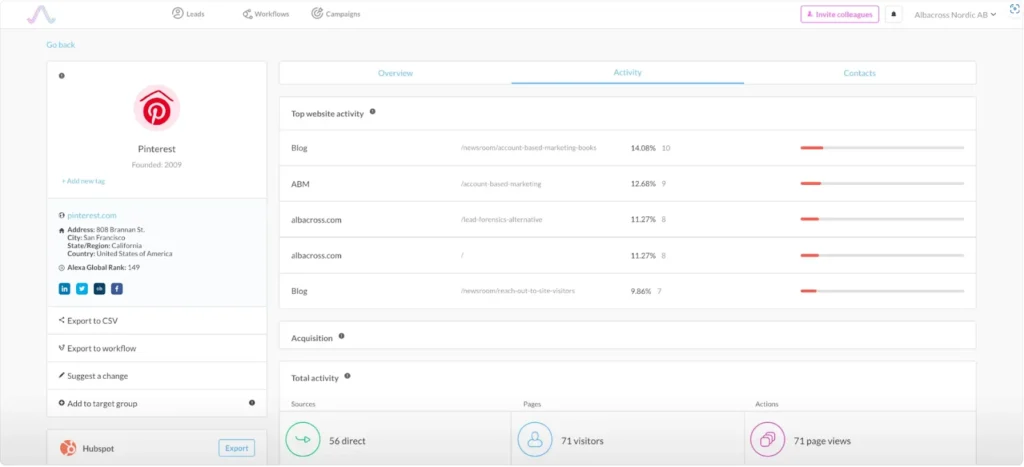 Image source: G2
Albacross is a platform that helps B2B marketers identify and target their ideal customers. You can access data on various companies, track their online behavior, and deliver personalized ads and content. Albacross helps you generate more leads, increase conversions, and grow your revenue.
User rating
Albacross has a 4.6 rating on G2 and a 4.5 rating on Capterra.
Features list
Identity: Find leads among anonymous website visitors using IP-to-company mapping and gain access to their contact data
Segment: Qualify prospects using pre-defined criteria and filter based on such factors as an industry, localization, size, etc.
Connect: Provide lead data to your sales teams, which they can use inside their CRM. Automate qualified leads' distribution
What makes this tool unique
Albacross offers a rich suite of integrations. The company's proprietary database maps over 3 billion events monthly, and identification rates are supposedly some of the best in the EU.
Integrations
You can integrate Albacross with LinkedIn, Google Analytics, Hubspot, Salesforce, Pipedrive, Slack, Webhooks, Google Sheets, and Microsoft Teams.
The platform also offers a Zapier integration and an API for other integration needs – however, the latter is only available for customers who choose the Growth plan.
Customer support
Albacross has a dedicated help center. You can contact the company via e-mail. Customers who choose the Growth plan also get access to a dedicated customer success specialist.
Pricing
Albacross offers two pricing plans:
Self Service – up to 100 identified companies, access to visitor's activity, segment and filtering, CRM integrations, LinkedIn ads integrations, and chat support for €79/month.
Growth – you can get everything from the Self Service plan with an unlimited number of identified companies. You also get API integrations, a dedicated customer success specialist and user onboarding. The price is not available on the website.
Pros
High identification rates
Great list of integrations
Cons
Some users complain the data is often incomplete or missing
The scripts used by Albacross may slow down your website
Demandbase competitors: A short overview
Tool
User rating
Best for
Pros
Cons
Pricing
Golden Leads
Not available
Businesses wanting to get accurate and updated contact information to drive revenue growth
Access to over 700 million records, cloud-based and profile-independent tool, data scraping, cleaning, enriching and validation, hyper-personalized searches
It uses only LinkedIn data
Pay-as-you-go model, costs per result, member or email, cost-efficient and affordable
RollWorks
4.2 on G2 and 4.5 on Capterra
Technology and services industries
Advanced analytics, large and accurate database
No pricing details on the website, insufficient data, high learning curve
Not available
Bombora
4.4 on G2 and 4.5 on Capterra
Sales and marketing teams, agencies and publishers
Focus on Intent data,
good integration options
No pricing details,
some users complain about the quality of the data
Not available
Folloze
4.8 on G2, 5.0 on Capterra
B2B and ABM companies
A suite of various features,
interesting AI-powered tools
No dedicated lead scraping capabilities,
lack of transparent pricing plans,
Not focused on the ABM features
Not available
Albacross
4.6 on G2 4.5 on Capterra
Sales teams and revenue teams in middle-sized and big companies
High identification rates, great list of integrations
incomplete or missing data, scripts can slow down your website
Starts at €79/month
Demandbase competitors: Our verdict
Account-based marketing is a necessity in the current B2B business landscape. There's no money and time to waste – you want to target the biggest clients and companies that seem most likely to respond well to your efforts.
Conducting thorough research and accessing accurate and current data is essential to achieve this goal. It requires using tools that enable efficient data scraping, cleaning, enriching and validation.
Golden Leads stands tall among other Demandbase alternatives, providing many valuable features. It will assist you in executing effective outreach campaigns and enable you to gain a competitive edge by capturing leads directly from your competitors.
Don't miss out on optimizing your ABM strategies. Fill out our form and start maximizing your results!
FAQs about Demandbase competitors
Here are answers to some common questions about account-based marketing and alternatives to Demandbase.
Who competes with Demandbase?
Here are some companies that compete with Demandbase: Golden Leads, LeadGenius, Salesgenie, FullContact, and HG Insights.
What type of company is Demandbase?
Demandbase focuses on account-based marketing (ABM), advertising, and sales intelligence.
Who owns the Demandbase?
Demandbase is a private company with many investors, such as Altos Ventures, Costanoa Ventures, Sigma Partners, Sutter Hill Ventures and Adobe Systems.
Is Demandbase software?
Yes, Demandbase is a software tool.
Why is an account-based marketing platform essential for inbound and outbound marketing?
An account-based marketing platform is critical because it allows you to target and personalize your campaigns to the most relevant and profitable accounts. Focusing on the accounts that matter most to your business can increase your conversion rates and revenue growth.
What are target accounts?
A target account refers to a business you aim to convert into a client for your company. Typically, companies focus on market and industry leaders as their target accounts.