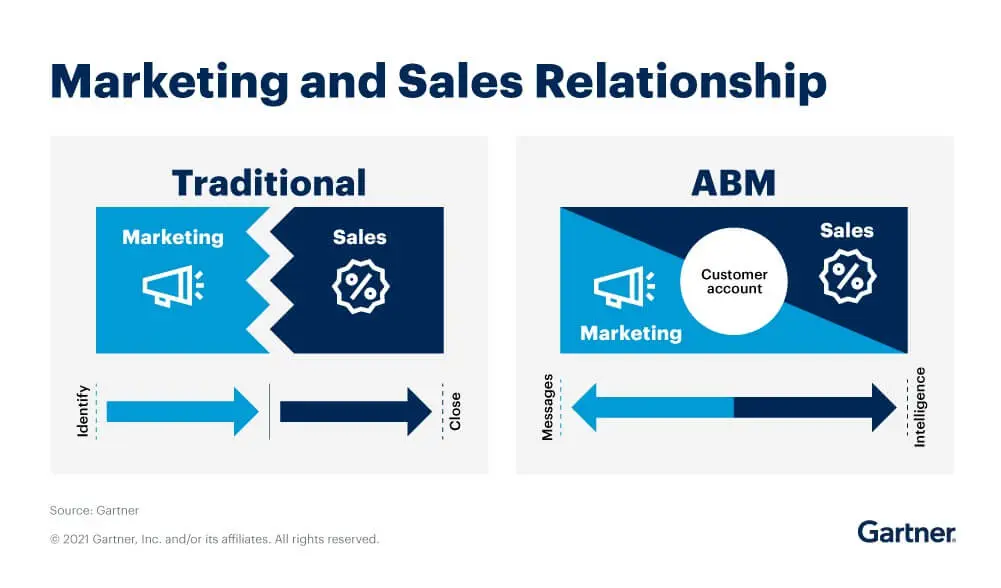 Image source: LXA hub
Account-based marketing (ABM) is a crucial strategy for companies looking to personalize their campaigns and engage with high-value accounts.
According to Forbes, ABM has turned everything upside down. Rather than launching a campaign for everyone, ABM enables you to deliver a campaign that only speaks to your selected accounts.
To jump on the ABM bandwagon, you need a dedicated marketing automation platform. If you've already tried 6sense, you might want to explore similar platforms that offer different features and functionalities.
To help you make your decision and drive revenue generation faster, we've examined five 6sense competitors you can start evaluating today.
Continue reading to learn more.
Our criteria for choosing the best 6sense competitors
Image source: Freepik
We used various parameters to select the best 6sense competitors. Our list will help you find an account-based marketing platform that meets your business needs.
Features and functionality: We looked for competitors offering various features to boost your inbound and outbound marketing efforts. Sales and marketing teams require a robust platform with components like predictive analytics, data enrichment, and LinkedIn scraping.
User-friendliness: While having a comprehensive suite of features is helpful, you won't get far without a user-friendly interface. It's crucial to look for platforms with a straightforward UI, so your team can quickly adapt and start producing results.
Cost-effectiveness: While price is not the only factor to consider, a platform should offer good value for the amount paid.
Customer support: You need a reliable customer service team to help you whenever you encounter technical issues or need guidance.
Pricing: We included ABM tools that offer free trials, plans, and different pricing tiers to fit your budget.
Integration with third-party tools: It enables your team to establish a seamless workflow. Strong integration capabilities can streamline processes within your organization.
Current user reviews: We explored review websites for feedback from existing users. It helped us better understand each competitor's strengths and weaknesses.
These factors play a significant role in determining the effectiveness and suitability of alternative solutions compared to 6sense.
The best 6sense competitors in 2023
After considering the criteria above, let's delve into five 6sense competitors you can start testing today.
1. Golden Leads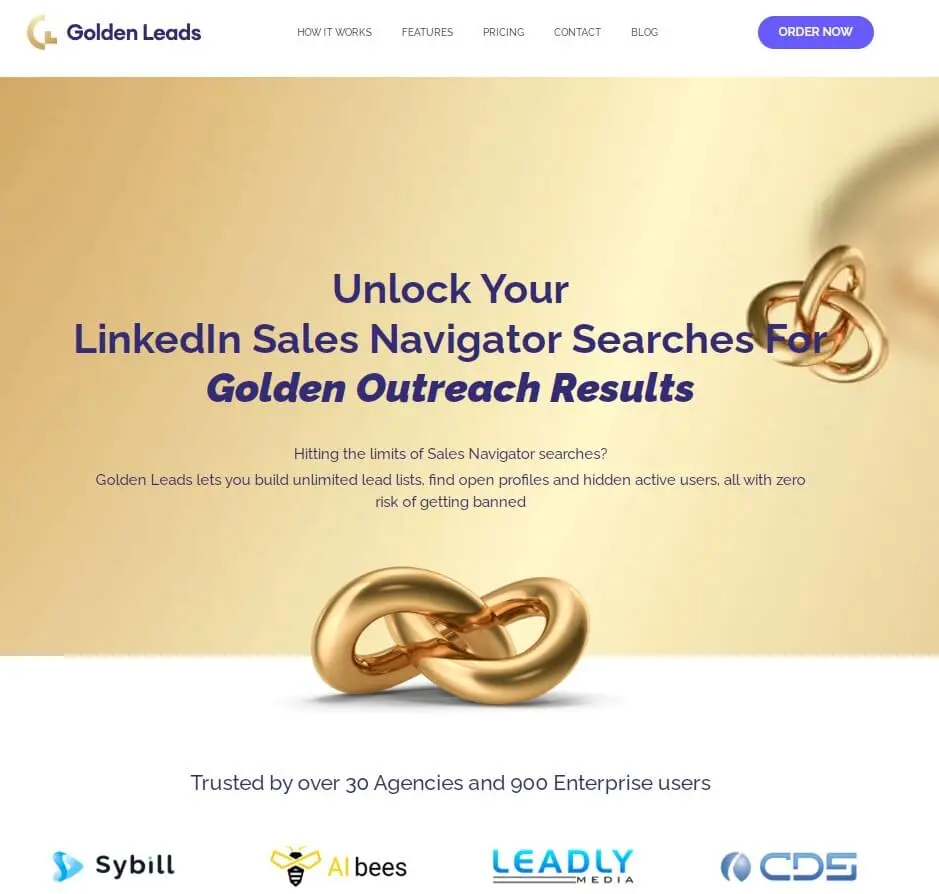 Golden Leads is a data intelligence and enrichment tool to streamline lead generation. It leverages LinkedIn to help your sales team find open profiles and hidden users and create unlimited lists of potential leads.
Most sales and marketing teams use the LinkedIn Sales Navigator. However, this platform only displays 2,500 leads per search. Golden Leads bypasses this limit and extracts data without restrictions while keeping your profile safe.
Our platform scrapes, cleans and validates data. Forget about false or incorrect information on new leads. Golden Leads ensures your sales team has accurate and complete data on potential buyers.
Golden Leads also stands out because of its hyper-personalization capabilities. Our actionable insights and analytics help you create highly personalized sales searches. That means you can tailor your efforts to your target audience's needs and preferences.
Fill out our form to learn more.
Features list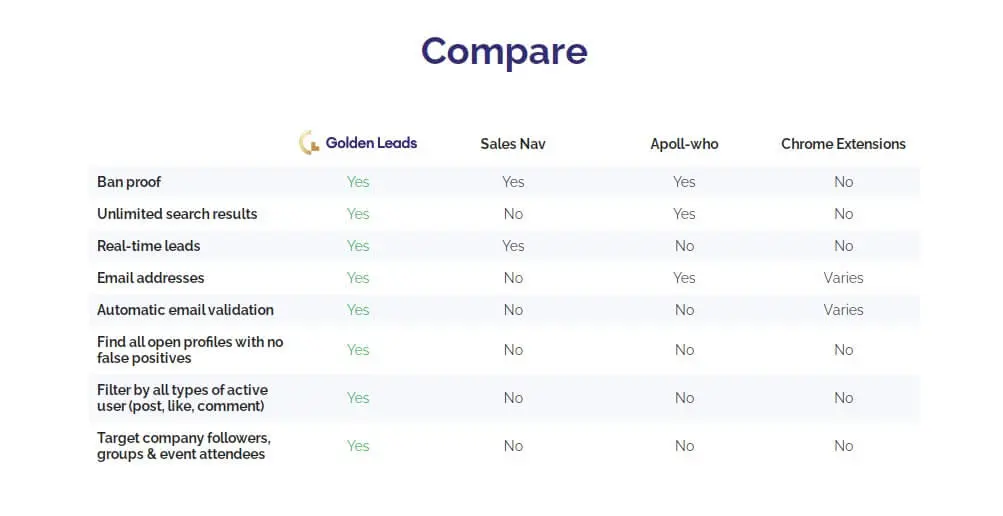 Golden Leads helps you:
Easily extract data from LinkedIn Sales Navigator without any restrictions! You no longer have to stress about the 2,500 results per search cap because you can now enjoy scraping on a larger scale.
With safe access to a vast database of over 700 million potential connections, you will receive invaluable details such as their first name, last name, company name, company URL, LinkedIn profile ID, and LinkedIn company ID.
Receive your scraping results in CSV format directly to your email effortlessly and promptly.
Boost your outreach efforts with our 100% accurate open profile identification tool. This feature enables you to enhance your outreach campaigns and send free InMails to engage with potential contacts and improve your networking opportunities.
Discover all active users on LinkedIn and evaluate their recent engagement, including likes, comments, and posts within the last 30 days. It helps you raise your connection request acceptance rates by 3-4 times, accelerating the growth of your network.
Fill out our form to learn more.
What makes this tool unique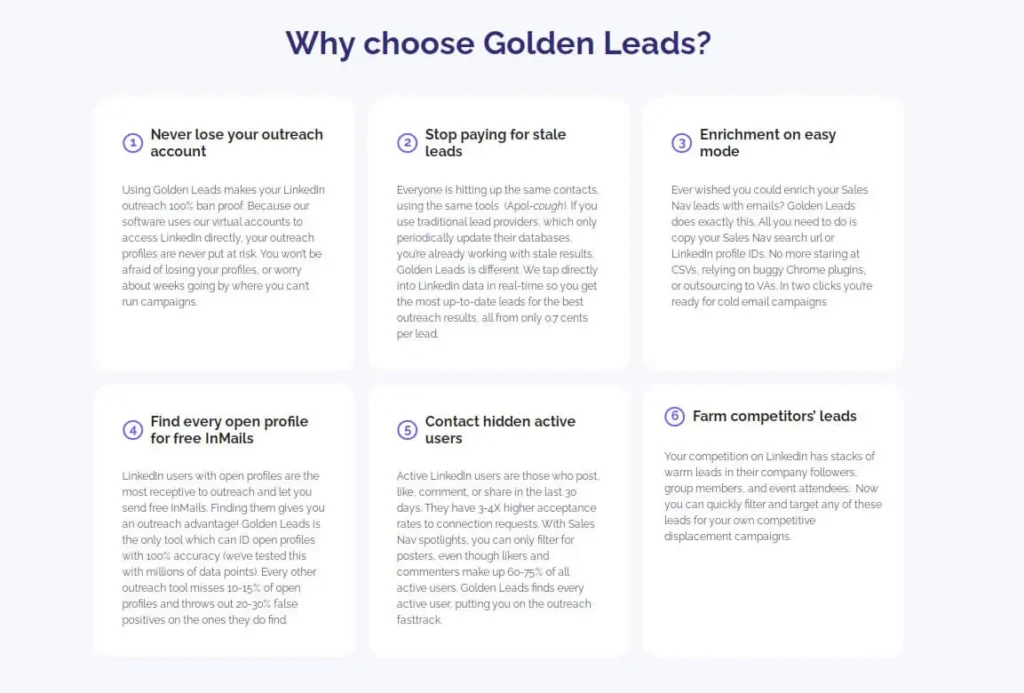 LinkedIn scraping – With Golden Leads, sales representatives can easily scrape LinkedIn Sales Navigator in real-time without using their profiles. Golden Leads utilizes virtual accounts, meaning you can extract data without getting banned from LinkedIn.
Email outreach – Our email enrichment feature can boost the effectiveness of your outreach efforts. With Golden Leads, you can extract data and obtain validated emails from active LinkedIn users. It allows you to create targeted campaigns for prospects more likely to purchase your products or services.
Access to competitors' leads – Golden Leads can list leads from LinkedIn pages, groups, and events using a source URL. It enables you to keep up with your competitors' targets and expand your reach.
Integrations
Golden Leads integrates with LinkedIn to help you extract data from Sales Navigator and discover all active users on the platform.
Customer support
You can contact customer support via a form on our website. Our customer service reps will quickly respond and provide any guidance you need.
Pricing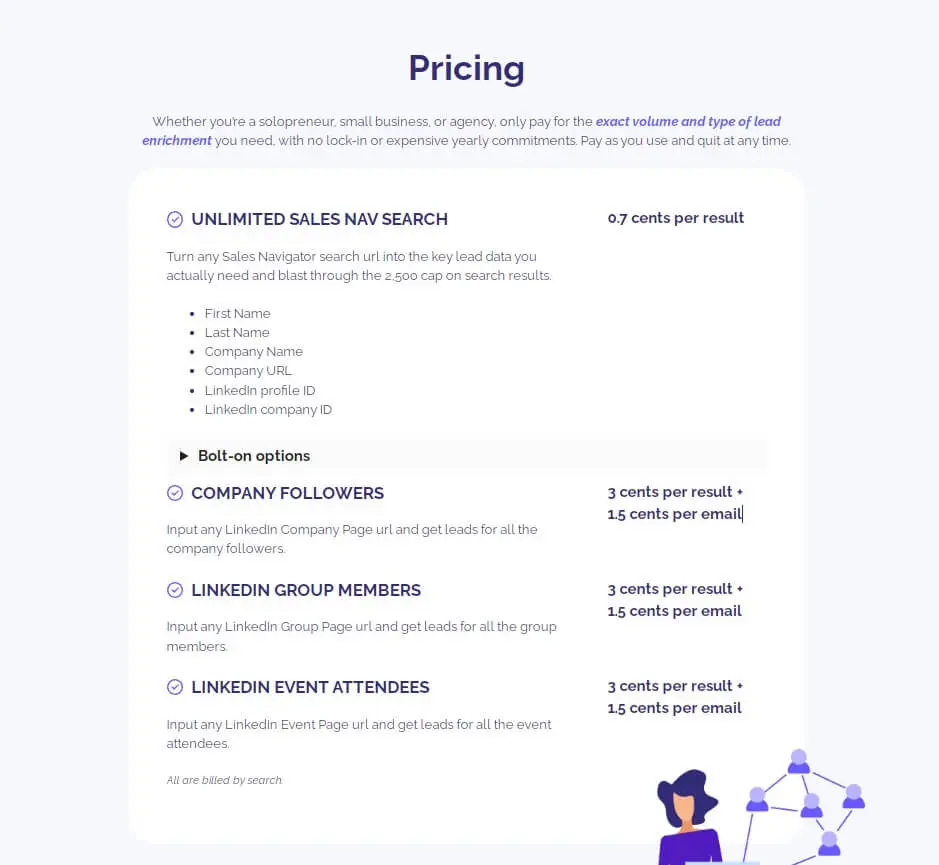 At Golden Leads, we offer a pricing model that allows you to pay as you go, giving you the flexibility to adjust your usage based on your needs.
You won't have to worry about long-term commitments or fixed monthly fees, making it a cost-effective solution that fits within your budget.
You can contact us anytime to learn more.
Pros
As one of the best 6sense alternatives, Golden Leads can:
Improve the collaboration between your sales and marketing teams
Grow revenue and boost the lifetime value of your customers
Get you more upsell and cross-sell opportunities
Shorten your sales cycle to help you close deals faster
Leverage the LinkedIn Sales Navigator data to ensure you have reliable information
Cons
It currently uses LinkedIn data only
2. Demandbase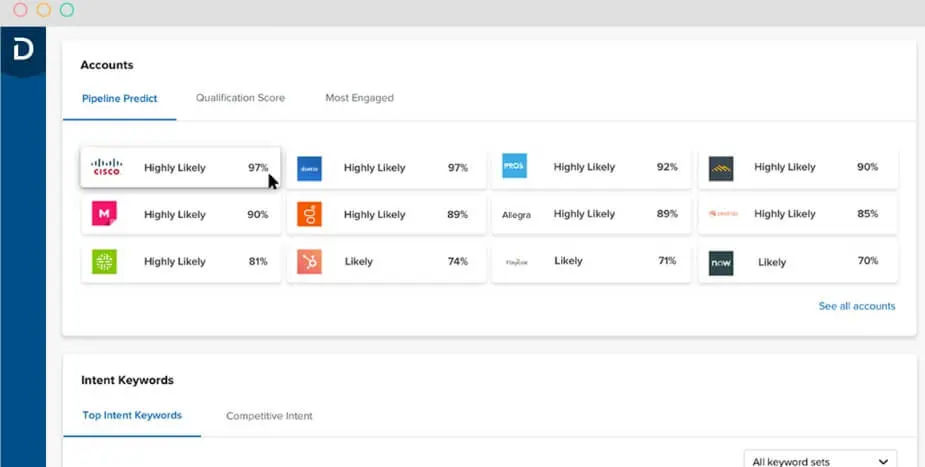 Image source: G2
Demandbase is an account-based marketing platform that offers various ABM solutions to help companies align their sales and marketing efforts.
The platform utilizes advanced technologies like artificial intelligence (AI) to pinpoint target accounts most interested in your business.
Demandbase also comes with B2B intent data capabilities to trigger campaigns, eliminate churn and personalize your messaging.
Demandbase helps businesses generate demand. If you want to reach accounts that aren't in your CRM, you can find customers who search for specific keywords with Demandbase.
Demandbase is also suitable for marketers. They can leverage Demandbase advertising to develop targeted ad campaigns. The tool relies on its intent data to deliver impressions to the right audience.
User rating
On G2, Demandbase has 4.3 out of 5 stars.
Users praise it for the amount of contact and company data it offers, ensuring they don't waste money on the wrong customers.
However, Demandbase has a steep learning curve. It can take much time to master the platform and its offerings.
Features list
Account Identification that uses AI to identify customers visiting your website
Personalized messages to deliver tailored content
Account-based Advertising to develop customized ad campaigns for important buyers
What makes this tool unique
Demandbase uses artificial intelligence to analyze data and create actionable insights. It helps digital marketers predict behavior, identify patterns and make data-driven decisions.
Integrations
Demandbase provides a range of integrations to enhance your account-based strategies. It supports integrations with
CRM systems like Salesforce
Marketing automation software like HubSpot and Marketo
Content marketing platforms like Uberflip
Customer support
You can contact the customer support team via email and phone. There's also the option to submit tickets.
Pricing
Demandbase provides pricing upon request, taking your requirements into account.
Pros
Access to extensive intent data
Account-based advertising
A comprehensive integration ecosystem
Cons
The pricing doesn't fit within everyone's budget
More suited for larger enterprises
A steep learning curve
3. RollWorks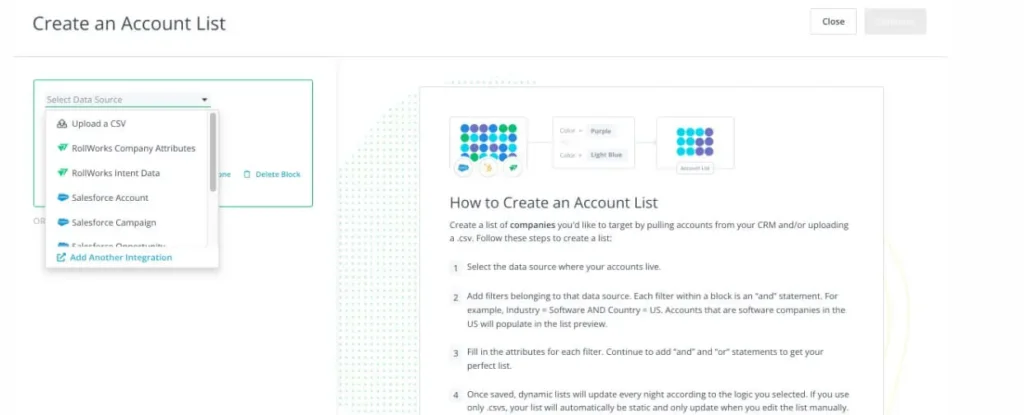 Image source: G2
RollWorks is one of the leading 6sense alternatives. It is an ABM tool that helps marketers and sales reps accelerate revenue growth. You can use RollWorks to identify accounts based on intent data.
Marketers leverage these insights to create targeted campaigns and boost engagement. RollWorks also improves your advertising efforts. You can deliver targeted ads to specific audience segments.
Its analytics feature offers valuable insights into engagement and campaign performances. Your sales and marketing teams can identify the activities that motivate customers to try your products or services.
User rating
RollWorks has 4.2 stars on G2. Its interface is simple and easy to use. However, the platform could work on its integration with third-party apps. Users mostly want RollWorks to improve its integration with LinkedIn.
Features list
Identification solution to prioritize the right customers
Engagement solution that helps you launch cross-channel campaigns
Analytics to measure your ABM performance
What makes this tool unique
RollWorks stands out because of its Account Scoring feature. It leverages machine learning to develop a predictive model that reflects your ideal customer profile.
Integrations
RollWorks integrates with
CRM solutions such as HubSpot and Salesforce
Marketing automation software like Marketo
Social marketing apps like LinkedIn
Customer support
Customer support is available via email. You can also visit the help center to find answers to your questions.
Pricing
Just like other 6sense competitors, RollWorks provides pricing upon request.
Pros
A range of ABM tools that help you with account identification and multi-channel engagement
AI-powered account scoring
Cons
Its integration with LinkedIn needs refinement
Requires extensive configurations
The Advertising Playbook feature needs improvement
2. Terminus ABM Platform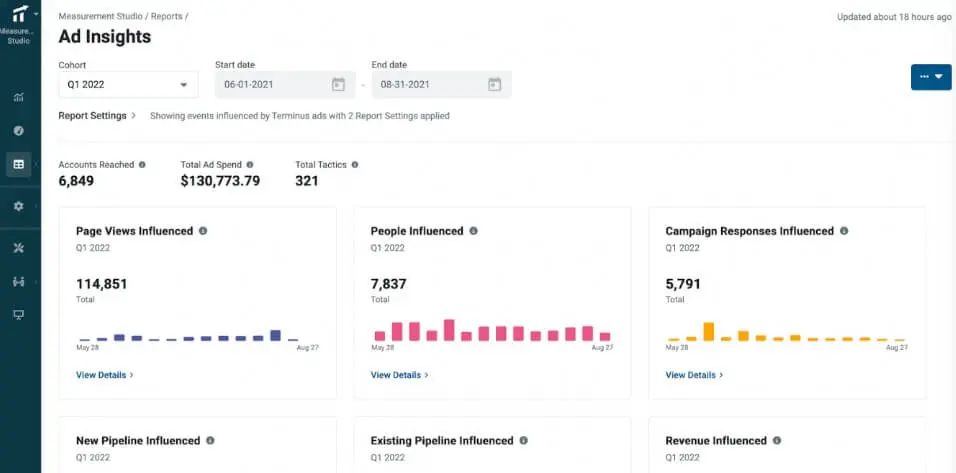 Image source: G2
Terminus ABM Platform is an account-based marketing tool for B2B marketers. It helps businesses target and engage the most critical accounts to grow their revenue further.
With the Terminus ABM Platform, you can identify your next customer inside and outside your CRM.
The tool prioritizes accounts based on their intent to ensure they receive ads prompting them to try products or services. Knowing which customers to target allows you to spend your ad budget more efficiently.
Multichannel marketing is an essential part of the Terminus ABM Platform. You can create customized campaigns across multiple channels using LinkedIn, email marketing, display advertising and personalized web pages.
The tool also engages your sales reps at the right time. It automatically alerts them when prospects view your campaign. That way, they know when to focus their efforts on a specific customer.
To launch better campaigns, you can use its web personalization solution. You can personalize your website so the text, CTAs and images attract customers.
User rating
Terminus ABM Platform has 4.4 out of 5 stars on G2. Businesses primarily use it to reach their desired audience and appreciate its ability to swiftly and effortlessly analyze data.
However, there are some downsides as well. Users say they've experienced reporting problems during their campaigns. Others claim that the onboarding process isn't smooth as expected.
Features list
Lead management
Predictive scoring
Omni-channel tracking
Marketing campaign measurement
What makes this tool unique
Terminus ABM Platform offers a range of features for multi-channel engagement. You can personalize your website or interact with customers across different platforms. It maximizes your chances of engagement and conversion.
Integrations
You can integrate the Terminus ABM Platform with
CRM and marketing automation platforms
Sales engagement tools
Web analytics tools
Customer support
You can contact the customer support team via email or phone. It offers the Customer Support Center, where you'll find answers to the most frequently asked questions.
Pricing
There is no information about Terminus ABM Platform pricing plans on the official website. However, you can ask for a demo to assess if it fits your business development needs.
Pros
Option to engage targeted audiences across channels
Predictive scoring to score new prospects based on their behavior
Website personalization
Cons
Reporting issues
Lack of customization options
Confusing pipeline attribution
5. Folloze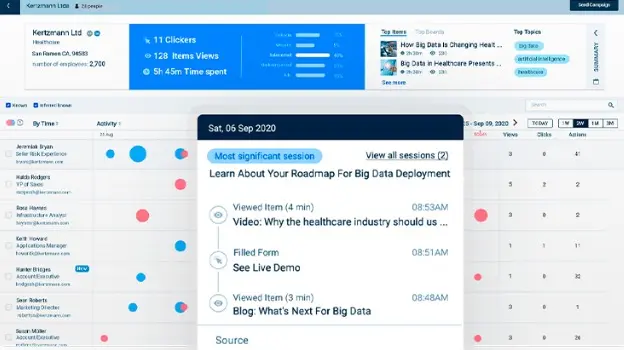 Image source: G2
Folloze is an ABM tool. It helps businesses convert and engage B2B buyers at each journey stage.
You can create and launch data-driven experiences tailored for every customer. Your campaigns can adapt to buyer needs and behaviors. That's thanks to the intent data feature that monitors customers closely.
Folloze also provides actionable engagement insights. It captures data in real-time. Then, it uses those insights to ensure you hit your targets.
With Folloze, your sales and marketing teams can work together. While marketing creates personalized campaigns, the sales reps can edit and approve them to fit customers' needs better.
User rating
Folloze has 4.8 out of 5 stars on G2. Users appreciate the ability to control the content customers see. The tool also helps them develop content marketing strategies quickly.
As for the downsides, clients would like to see more customization options. The reporting interface seems cumbersome.
Features list
Account-based engagement
Content management, including the option to import content and use pre-built templates
Detailed analytics
Alerts when customers view a piece of content
What makes this tool unique
Folloze is a good option if you want to create highly personalized content experiences. You can customize web pages and content hubs to meet prospects' needs and interests.
Integrations
Folloze doesn't integrate with many tools. However, you can connect it with 6sense to deliver richer buyer journeys.
Customer support
You can contact the customer service team via email. There's also an extensive Help Center where you can find many answers.
Pricing
Their pricing is available upon request.
Pros
Personalized content experiences
Cross-channel orchestration
AI-powered recommendations
Cons
A steep learning curve
Limited targeting data
6sense competitors: A short overview
Let's compare these 6sense competitors in the table below.
| | | | | | |
| --- | --- | --- | --- | --- | --- |
| Software | User rating | Best for | Pros | Cons | Pricing |
| Golden Leads | N/A | Businesses of all sizes that want to build unlimited lead lists, find open profiles and hidden active users, all with zero risk of getting banned | Access to over 700 million records, a cloud-based and profile-independent tool, data scraping, cleaning, enriching and validation, hyper-personalized searches | Currently focuses on LinkedIn only | Pay-as-you-go model, costs per result, member or email, cost-efficient and affordable |
| Demandbase | 4.3 | Enterprises | Access to extensive intent data, account-based advertising, a comprehensive integration ecosystem | High cost, a steep learning curve | Available upon request |
| RollWorks | 4.2 | B2B companies of various sizes | A range of ABM tools, AI-powered account scoring | Requires extensive configurations, the Advertising Playbook feature should be improved | Available upon request |
| Terminus ABM Platform | 4.4 | Enterprises | Predictive scoring, website personalization | Reporting issues, lack of customization options, confusing pipeline attribution | Available upon request |
| Folloze | 4.8 | B2B companies | Personalized content experiences, cross-channel orchestration, AI-powered recommendations | A steep learning curve, limited targeting data | Available upon request |
6sense competitors: Our verdict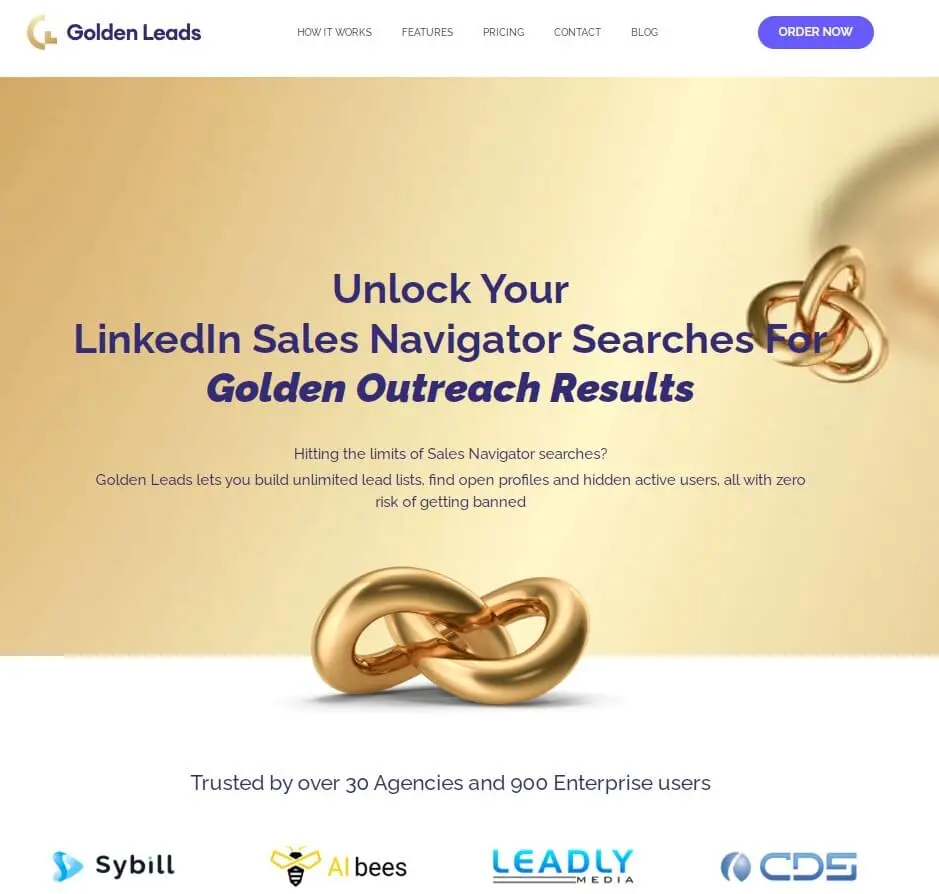 After thoroughly evaluating 6sense competitors, we have identified Golden Leads as the top choice for your business. Golden Leads stands out due to its exceptional capabilities and unique qualities.
One key strength of Golden Leads is its robust lead generation feature.
Our platform streamlines the lead generation process by providing accurate and up-to-date information from LinkedIn Sales Navigator. It ensures you access high-quality data that fuel your sales and marketing efforts.
Golden Leads goes beyond simple data collection by employing advanced techniques to enhance the quality of the information.
Our platform scrapes valuable data, applies data cleansing techniques to eliminate inconsistencies, supplements existing data with additional relevant details, and verifies the validity of contact information.
It ensures that the leads you obtain from Golden Leads are reliable and of the highest quality.
Golden Leads also offers a hyper-personalization feature that enables you to target your target audience precisely. You can significantly increase the likelihood of converting leads into loyal customers by tailoring your messaging and outreach efforts based on specific customer preferences, demographics, and interests.
This personalized approach enhances engagement and fosters stronger connections with your target audience.
To learn more about how Golden Leads can benefit your business, we invite you to fill out our form. Our team will provide comprehensive information and guide you through leveraging Golden Leads for your lead generation needs.
FAQs about 6sense competitors
Who are 6sense competitors?
The following account-based marketing platforms are 6sense competitors:
Golden Leads
Demandbase
Folloze
Terminus ABM Platform
RollWorks
What is 6sense known for?
It is an account-based marketing tool that utilizes artificial intelligence to gather insights into target accounts. It helps marketing and sales teams identify and engage with the right customers.
Is 6sense an ABM?
Yes, it is an account-based marketing (ABM) tool.
What is 6sense annual revenue?
6sense doesn't publicly share reports on its annual revenue.