Image source: Freepik
DiscoverOrg has established itself as a prominent player in the dynamic landscape of business data providers, offering insights and intelligence to help sales and marketing teams convert raw data into helpful information.
However, the market is brimming with DiscoverOrg competitors delivering comprehensive business data solutions.
To assist you in exploring available options, we have thoroughly reviewed the best DiscoverOrg alternatives. This article delves into the top business data providers, assessing their features, functionalities, pricing, customer support, and overall value.
Whether you seek a more cost-effective solution, additional features, or better integration capabilities, we will guide you in making an informed decision about the best DiscoverOrg alternative that aligns with your needs.
Our criteria for choosing the best DiscoverOrg competitors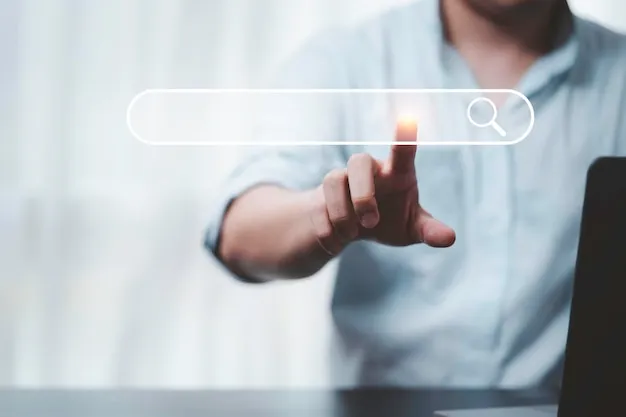 Image source: Freepik
While selecting the best alternatives to DiscoverOrg, we based our research on the following criteria:
Features and functionality: We evaluated competitor platforms based on their features and functionalities. It included assessing their capabilities in data aggregation, contact profiling, lead generation, market research, sales automation, insights, and analytics. We prioritized platforms that offer comprehensive and robust solutions comparable to DiscoverOrg.
User-friendliness: Usability is a critical factor when choosing a DiscoverOrg alternative. We assessed each platform's user interface, navigation, and overall user experience. The goal was to identify competitors that provide intuitive and user-friendly interfaces, ensuring ease of use and quick onboarding for sales teams.
Cost-effectiveness: Affordability and value for money were essential considerations in our evaluation. We examined the pricing models, subscription plans, and the overall cost structure of the competitor platforms. We sought solutions that offer competitive pricing, flexible plans, and a reasonable balance between features and cost.
Customer support: Quality customer support is vital for users of any sales intelligence platform. We looked for competitors that offer responsive and knowledgeable customer support teams.
Pricing: We have carefully reviewed each competitor's pricing structure and transparency. Our goal was to identify DiscoverOrg alternatives that offer competitive pricing, providing value for organizations of different sizes and budgets.
Integration with third-party tools: We looked for competitors seamlessly integrating with popular CRM systems, email marketing platforms, and other essential tools. It enables efficient data transfer, workflow automation, and a seamless user experience across different applications.
Current user reviews: To understand existing users' experiences and satisfaction levels, we looked at their feedback and reviews. We considered positive and negative feedback to gain a well-rounded perspective on each competitor's strengths and weaknesses.
Our goal is to provide you with a reliable and unbiased resource that showcases the leading DiscoverOrg competitors in the industry, ensuring you can explore and evaluate these alternatives confidently.
The best DiscoverOrg competitors in 2023
Whether you are a sales professional seeking comprehensive prospecting tools or a business executive looking for advanced market intelligence, our list will be a valuable resource to help you make educated decisions and find the right solution for your organization's needs.
Let's get started.
Golden Leads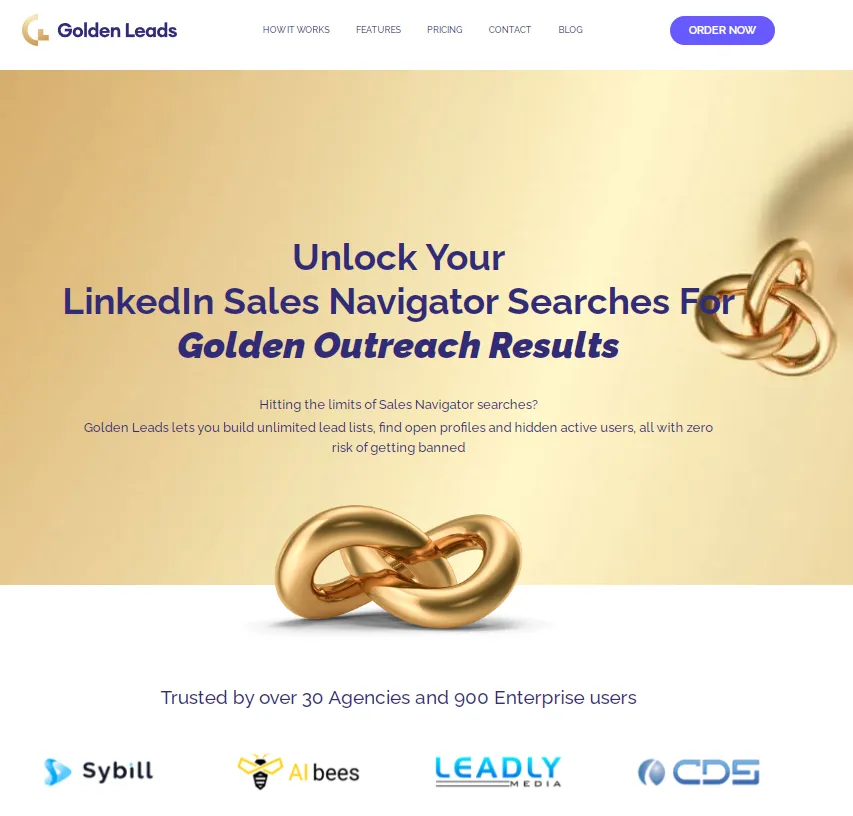 Golden Leads is a cutting-edge data intelligence and enrichment tool that enables you to use LinkedIn Sales Navigator for lead generation and boosting sales.
With its advanced capabilities, Golden Leads goes beyond basic data scraping by gathering information and cleaning, enriching, and validating it.
One of the key advantages of using Golden Leads is its robust validation tools that help you verify the credibility and currency of contact information, saving valuable time and effort your sales team would otherwise waste on pursuing no longer relevant leads.
It enables you to conduct hyper-personalized sales searches, ensuring your team has access to precise and up-to-date information about potential leads.
By streamlining the lead qualification process, Golden Leads empowers your sales team to focus on high-quality prospects, increasing their efficiency and productivity.
Features list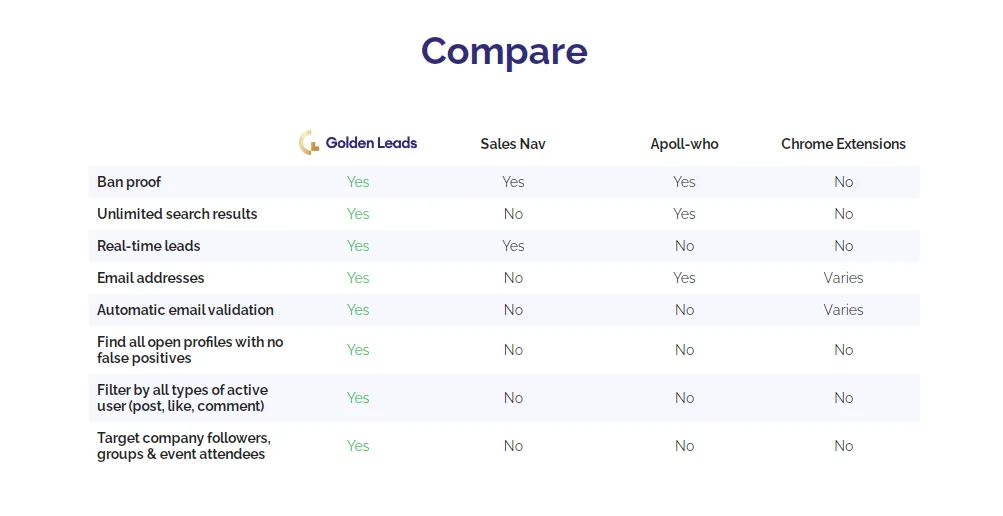 Extracting unlimited data from LinkedIn Sales Navigator: Golden Leads allows you to collect data on a larger scale without restricting the results to 2,500 per search as other DiscoverOrg competitors do.
Providing a database of more than 700 million potential contacts: It includes details like first and last name, Linkedin profile ID, company name and URL, and company LinkedIn profile ID.
Delivering results in CSV format directly to your inbox.
100% accurate open profile identification: This feature empowers you to supercharge your outreach campaigns, allowing you to send free InMails and effectively convert leads.
Discovering all active and hidden users on Linkedin: Golden Leads validates users' latest engagement, including comments, likes, and posts from the last 30 days. It helps you increase your connection acceptance rates by four times.
Email enrichment feature: It enhances the effectiveness of your email outreach endeavors.
As an additional benefit, Golden Leads allows you to input URLs and extract leads from LinkedIn company pages, LinkedIn group pages, and LinkedIn event pages. This feature enables you to filter and target specific leads, gaining a competitive advantage, expanding your reach, and maximizing your business opportunities.
What makes this tool unique
Golden Leads allows you to extract real-time data from the entire LinkedIn Sales Navigator independently of your profile. The platform does this by utilizing virtual accounts. This solution enables you to extract data without any limitations or concerns about facing a ban from LinkedIn or violating its terms of service.
Integrations
Golden Leads integrates with LinkedIn and LinkedIn Sales Navigator.
Customer support
You can get in touch with the Golden Leads support team via email.
Pricing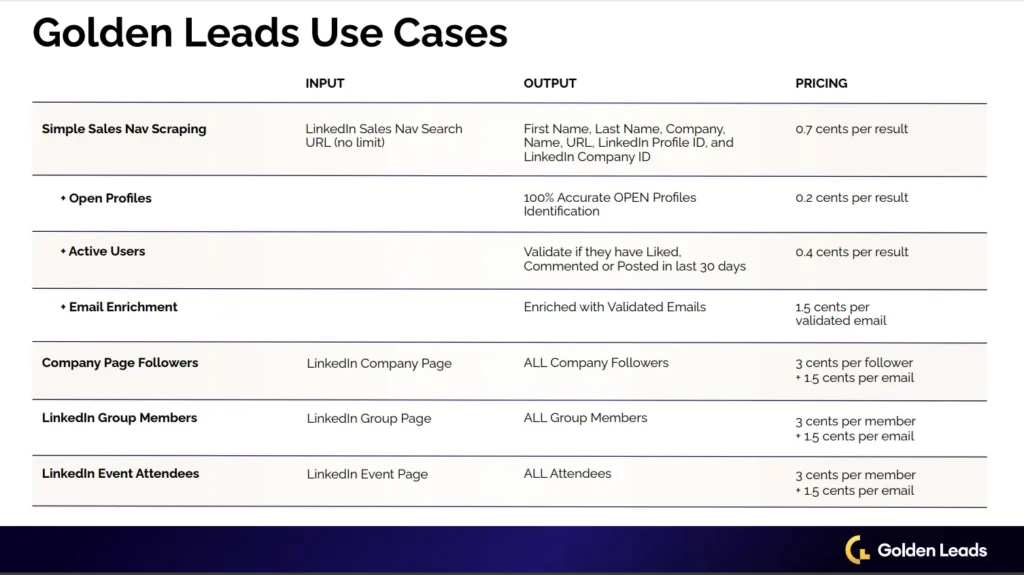 Golden Leads provides a pay-as-you-go pricing model that you can adjust to your requirements. There are no binding contracts or costly yearly commitments.
You can effortlessly start using the platform. Just fill out the form.
Pros
Enhances cooperation between your marketing and sales departments
Drives revenue growth and optimizes customer lifetime value
Expands upselling and cross-selling possibilities
Reduces sales cycle duration and improves the likelihood of closing deals quickly
Boosts contract values and facilitates customer retention
Relies on dependable data from LinkedIn Sales Navigator
User-friendly and operates on the cloud
Cons
It's focused only on LinkedIn Sales Navigator data
RocketReach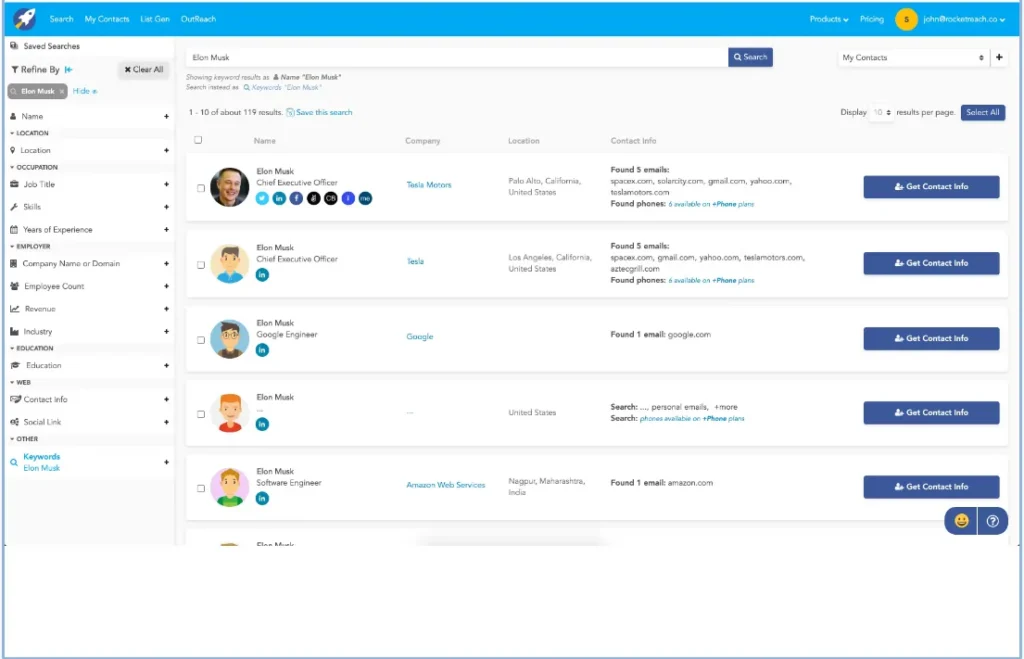 Image source: Capterra
RocketReach is a sales intelligence solution that helps you find contact information by distilling thousands of data points. By activating the RocketReach Chrome Extension while browsing any website, you can swiftly uncover leads on platforms like AngelList, Crunchbase, Google, and LinkedIn. The tool offers various search criteria, allowing you to find emails and phone numbers that align with your requirements.
User rating
Software Advice rated RocketReach 4.2 out of 5 based on 125 user reviews.
Features list
Email finder
Phone number search
Social URL search
Exporting leads to CSV
Automated lead generation
Data segmentation and filtering
What makes this tool unique
RocketReach uses AI/machine learning and data verification to ensure data accuracy.
Integrations
RocketReach integrates with third-party tools such as Salesforce, ApiX-Drive, ZoomInfo, HubSpot CRM, Zapier and ActiveCampaign.
Customer support
Email
Live chat
Phone
Help center
Pricing
RocketReach offers four pricing plans:
Essentials: 125 lookups per user for $53 monthly
Pro: 300 lookups per user for $107 per month
Ultimate: 833 lookups per user for $269 monthly
Enterprise: custom pricing
Pros
Straightforward and intuitive interface
Enables you to narrow searches to your target market
Cons
Contact data is not updated regularly, so users need to spend much time verifying prospect information
It's more expensive than other prospecting tools
Visual Visitor
Image source: Capterra
Visual Visitor is a sales intelligence software for small to midsize businesses. It offers various features, including identifying anonymous website visitors, market segmentation, integration with email campaigns, and capturing form data.
By tracking the location and IP addresses of website visitors, Visual Visitor effectively converts them into potential leads. It also provides a marketing tool that facilitates tracking of email campaigns.
User rating
Capterra rated Visual Visitor 4.8 out of 5 based on 11 user reviews.
Features list
Visitor tracking
Lead generation
Data collection
Contact discovery
Social media integration
Opportunity management
Email templates
What makes this tool unique
Visual Visitor can track online traces left by a company's B2B buyers and turn them into insights about potential prospects at an earlier stage of the buying process. It can identify individuals actively seeking a company's product or service.
Integrations
Besides social media platforms like Instagram, Twitter, and Facebook, Visual Visitor integrates with apps like Google Docs, Microsoft Excel, Slack, Gmail, Trello, Zapier, Mailchimp, and Zoho CRM.
Customer support
Visual Visitor offers customer support through various channels, such as
Support portal
Email
Phone
Live chat
Knowledge base
Pricing
Visual Visitor provides a free trial. Its Full Featured Sales Intelligence platform offers two pricing plans:
WebID + Employee: This plan starts at $199 a month and includes features such as website visitor identification, email tracking, and contact database.
B2B Sales Tools: A custom plan tailored to users' needs.
Pros
Responsive customer support
The platform is easy to navigate and provides plenty of data
Cons
Some users have reported that Visual Visitor's features are limited compared to other sales intelligence software
Visual Visitor does not have a mobile app
CIENCE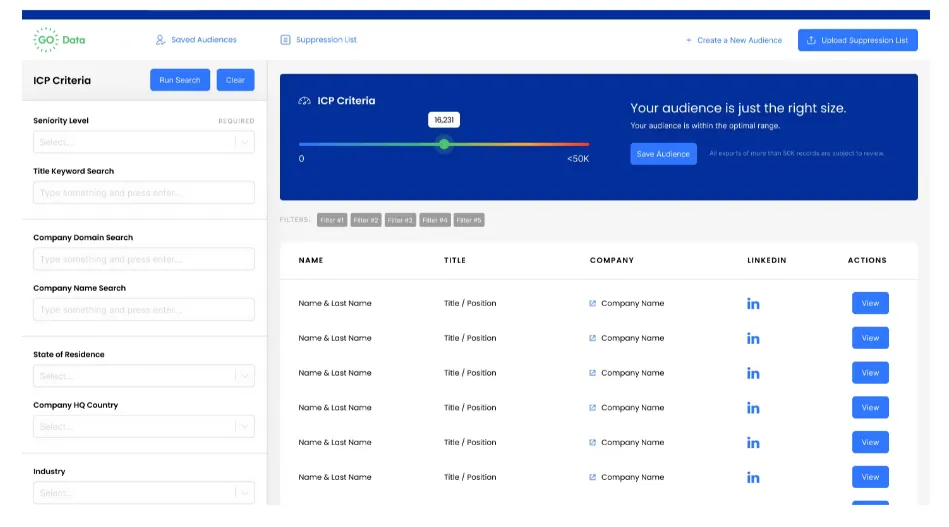 Image source: GetApp
CIENCE GO Data is a sales intelligence software solution that provides various contact details to help you effectively target your desired customers. It offers a vast collection of contact records for large and small companies, conveniently organized within a user-friendly platform. It enables sales teams to construct dynamic lists swiftly.
The vetting process guarantees precision and good quality across all contact data, encompassing names, phone numbers, and email addresses.
User rating
GoodFirms rated CIENCE 4.8 out of 5 based on 23 user reviews.
Features list
Data enrichment
Lead generation
Account-based marketing
Intent data analysis
What makes this tool unique
CIENCE GO Data enriches data with additional information, such as job titles, company size, and revenue.
Integrations
CIENCE GO Data offers integrations with various systems to help you work with your existing tech stack, including Salesforce, Hubspot, Marketo, and Pardot.
Customer support
Customers can contact the CIENCE support team by chat, phone, and email.
Pricing
A custom quote is available upon contacting the vendor.
Pros
Quick response time of the support team
The tool generates reports that enhance comprehension of the customers you should focus on
Cons
The reports they send sporadically show inaccuracies
It has a high learning curve
LeadSift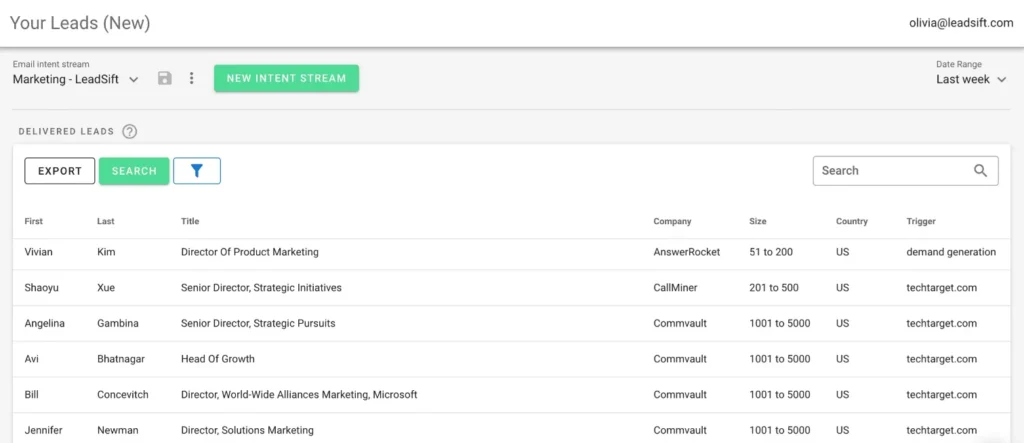 Image source: GetApp
LeadSift is a sales engagement platform designed to generate and prioritize leads and accounts by analyzing their engagement with competitors and relevant content.
This DiscoverOrg alternative collects sales data and provides account-based insights to help you determine which leads to prioritize based on their buying intent.
User rating
GetApp rated LeadSift 4.4 out of 5 based on ten user reviews.
Features list
Filtering
Prioritization
Competitor tracking
Keyword tracking
Built-in database
Campaign analytics
What makes this tool unique
LeadSift offers actionable intent leads that help you identify and reach target accounts based on their online activities. It allows you to target prospects already in the buying mode and increase your chances of closing deals.
Integrations
LeadSift integrates with various third-party tools such as Salesforce, HubSpot CRM, Pipedrive, Hootsuite, and Marketo.
Customer support
LeadSift provides various customer support channels:
Phone
Email
Client resources on the website
Pricing
LeadSift pricing starts at $1500 monthly (flat rate).
Pros
Their LeadDetector can be very specific in creating lead lists
Provides daily updates with new prospects for review
Cons
Some areas of the interface are challenging to understand
It takes time and effort to narrow down the search to get qualified leads
DiscoverOrg competitors: A short overview
Let's briefly overview DiscoverOrg competitors, focusing on prominent players that have established themselves as reliable market research and sales intelligence tools.
Golden Leads
Rocket Reach
Visual Visitor
CIENCE
LeadSift
User rating
Not available
4.2
4.8
4.8
4.4
Best for
Businesses wanting to improve their sales process and drive revenue growth
Sales, recruiting and marketing companies
Businesses that want to improve their website lead generation and visitor tracking efforts
Sales teams,
data-driven marketing teams, businesses who wish to enhance their lead- generation efforts
B2B tech marketing and sales teams
Pros
Access to over 700 million records, cloud-based and profile-independent tool, data scraping, cleaning, enriching and validation, hyper-personalized searches
Straightforward interface, it enables you to narrow searches to your target market
Responsive customer support, the platform is intuitive and provides plenty of data
Quick response time, the tool generates reports that help you pinpoint customers you should focus on
Their LeadDetector can be very precise in creating lead lists, it provides daily updates with new prospects
Cons
Focused on LinkedIn data at present
Contact data is not updated regularly, verifying prospect information takes time and effort, more expensive than other prospecting tools
Limited features compared to other sales intelligence software, it does not have a mobile app
The reports sometimes show inaccuracies, it has a learning curve
UI can be challenging, it takes time and effort to properly narrow down the search to get qualified leads
Pricing
Pay-as-you-go model, costs per result, member or email, cost-efficient and affordable
Starts at $53 a month
Stars at $199 a month
Not available
$1500 per month (flat rate)
DiscoverOrg competitors: Our verdict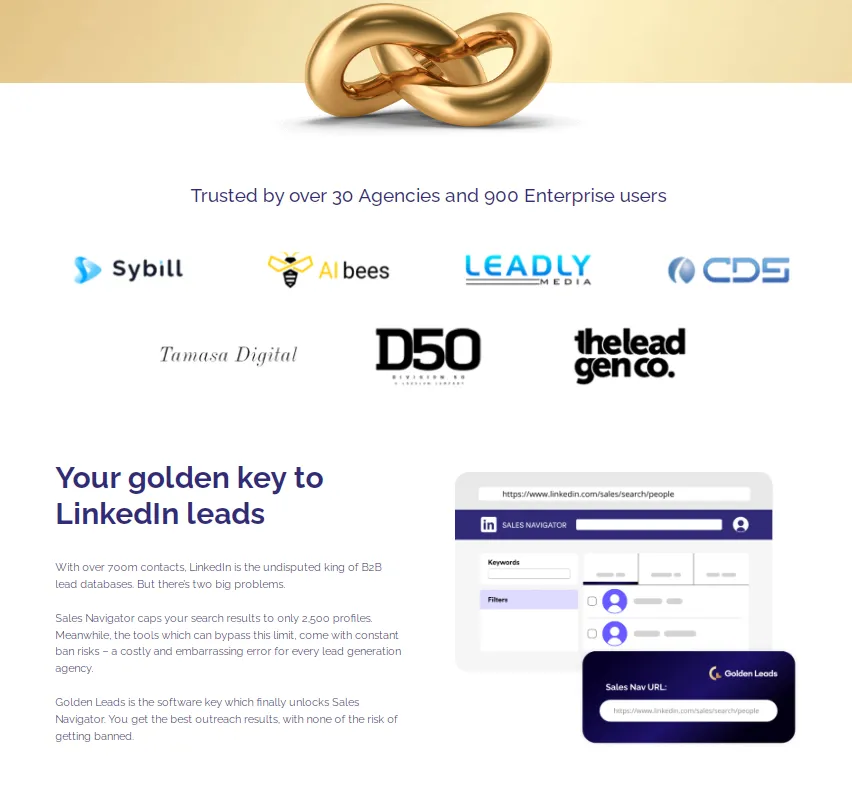 We encourage you to explore the options presented in this article, leveraging the insights to supercharge your data-driven strategies. Whether you are a solopreneur, small business, or agency, there is a DiscoverOrg competitor that can meet your unique demands.
If you need a solution to perform highly personalized sales searches and generate a comprehensive list of relevant leads with accurate and updated contact information, try Golden Leads.
It gives you unlimited access to LinkedIn Sales Navigator to identify individuals of interest, gather essential information and validate the results, saving you valuable effort by removing time-wasting leads.
Fill out the form to start using the tool right away. Remember, there are no commitments – you pay for what you use and are free to quit anytime.
FAQs about DiscoverOrg competitors
Let's answer the most common questions about DiscoverOrg competitors.
Who is the competitor of DiscoverOrg?
DiscoverOrg competitors include sales intelligence solutions such as Golden Leads, Rocket Reach, LeadSift and Visual Visitor.
Is DiscoverOrg the same as ZoomInfo?
Yes, DiscoverOrg and ZoomInfo are now part of the same company. In 2019, DiscoverOrg acquired ZoomInfo and subsequently rebranded as ZoomInfo. As a result, the two platforms offer a comprehensive suite of sales and marketing intelligence tools under the ZoomInfo brand.
What is the revenue of DiscoverOrg?
DiscoverOrg's annual revenue is estimated to be $500 million.
How does ZoomInfo work?
ZoomInfo is a comprehensive sales and marketing intelligence platform that provides users access to a vast company and contact information database. ZoomInfo employs various methods to gather data, including web scraping, public sources, user-contributed data, and partnerships with data providers. They collect information on companies, contacts, job titles, industry segments, and similar.
What is a sales intelligence platform?
A sales intelligence platform provides sales teams with marketing data, insights, and analytics to support their sales efforts. It helps sales professionals gather and analyze information about potential prospects, leads, and customers, enabling them to make informed decisions and improve their sales strategies.
How do sales and marketing teams use DiscoverOrg competitors?
Sales and marketing teams can use competitor intelligence from DiscoverOrg competitors in several ways. Here are some common use cases:
Competitive analysis
Targeting and prospecting
Market research
Pricing and positioning
Sales enablement
Campaign and content strategy
Why is business intelligence important for sales teams?
​Business intelligence​​ is vital​​ for sales teams​​ because it can​​ help them improve​​ their sales efforts, enhance​​ the effectiveness of marketing campaigns, increase productivity​​, and optimize​​ workflow.